August 22, 2022
44 view(s)
Julie Mader challenges her customers to think about how even their clothing choices can reflect the love that they have for the PA Wilds. Her silk scarves are inspired by the beauty of the natural world around her.
"The process of watching dyes move on silk fibers never ceases to delight me, the colors creep along the threads blending with one another creating the most wonderful surprises!" says Julie. "Each and every silk piece that I paint is completely unique, no two will EVER be exactly the same - how wonderful is that? The process and result reinforces my belief that everyone deserves to have something beautiful that is as unique as them and is theirs alone."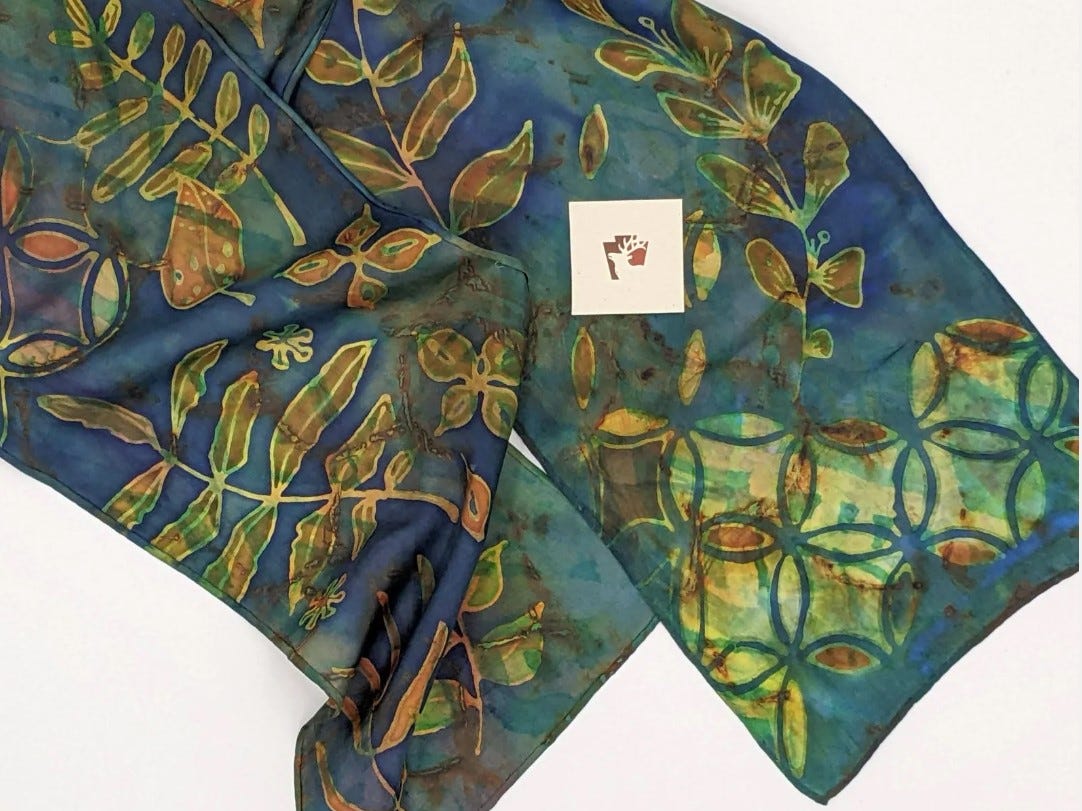 When setting up her storefront on the PA Wilds Marketplace website, Julie wanted to make sure that people could visually see where her inspirations came from.
For example, Julie's "colorways" scarf designs come in patterns such as dark skies, chicory, milkweed and local honey. In addition to her storefront showing a photo of what each scarf actually looks like, she pairs those scarf photos with images of what inspired the coloring. A cozy campfire roars in a photo above a warm orange scarf, and the canopy of trees against a summer sky stands tall in a photo above a green and blue scarf.
Her written descriptions are just as important as photos. Julie Mader gives the background story of each scarf design, describing what inspired her and how it relates to the PA Wilds region. She also makes sure to include technical details, such as what fabric the scarf is made from, the length of the scarf and how the dyes were set.
Julie's impressive products, thoughtful descriptions and beautiful photos have earned her some loyal customers.
You can become one too; just check out her storefront to see all her nature-inspired designs at https://shopthepawilds.com/JulieMader/.