September 12, 2022
120 view(s)
The PA State Parks Passport Book is your passport to adventure... 121 of them, in fact!
This 135-page passport includes maps, a history of the state's park and forest system, a brief description and most memorable feature of each state park and forest, and additional online resources.
Participants can track their visits to our public lands by initialing their book or having it stamped at the park or forest office.
At some locations, you might have to ask for the stamp from a ranger or visitor staff member. At other locations, the stamps and inkpads are left out so visitors can stamp their books on their own.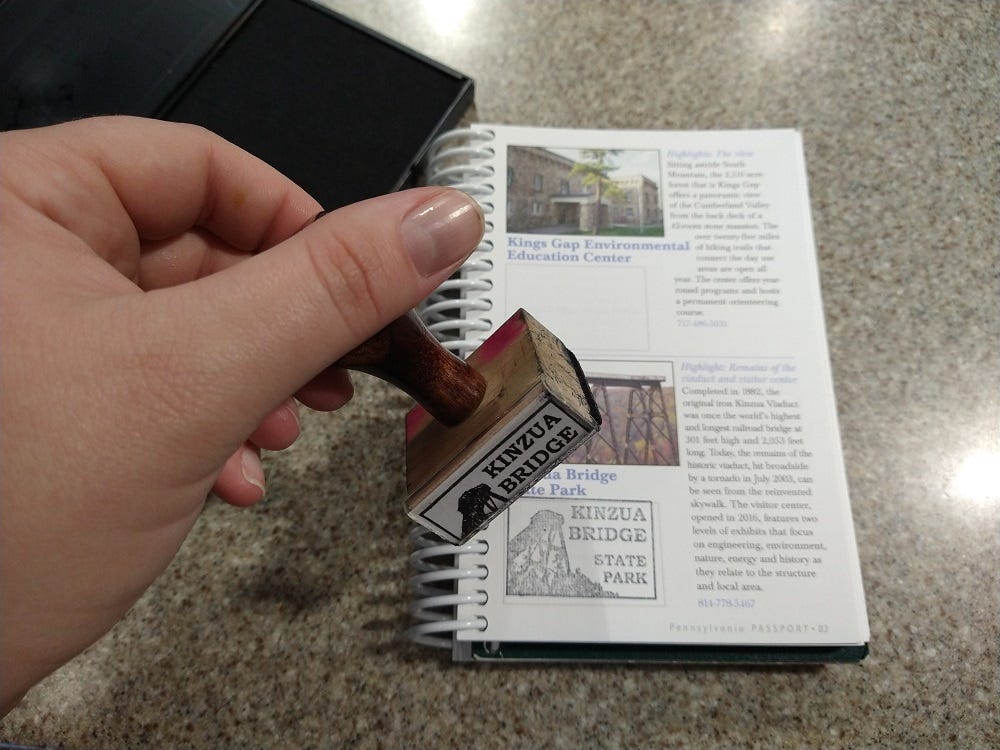 You can purchase a Pennsylvania State Park Passport Book on the PA Wilds Marketplace online, as well as at the PA Wilds Conservation Shops at Leonard Harrison State Park and Kinzua Bridge State Park.
Whenever you get a new stamp in your passport book, be sure to chat with the park ranger or staff at the visitor center.
Most are interested to know what other parks you've been to and where you're planning to head next. They might even make suggestions for places to go around the area!
There is even a small amount of white space near to each park entry, so you might want to note your favorite thing about each park you visit or who you traveled with.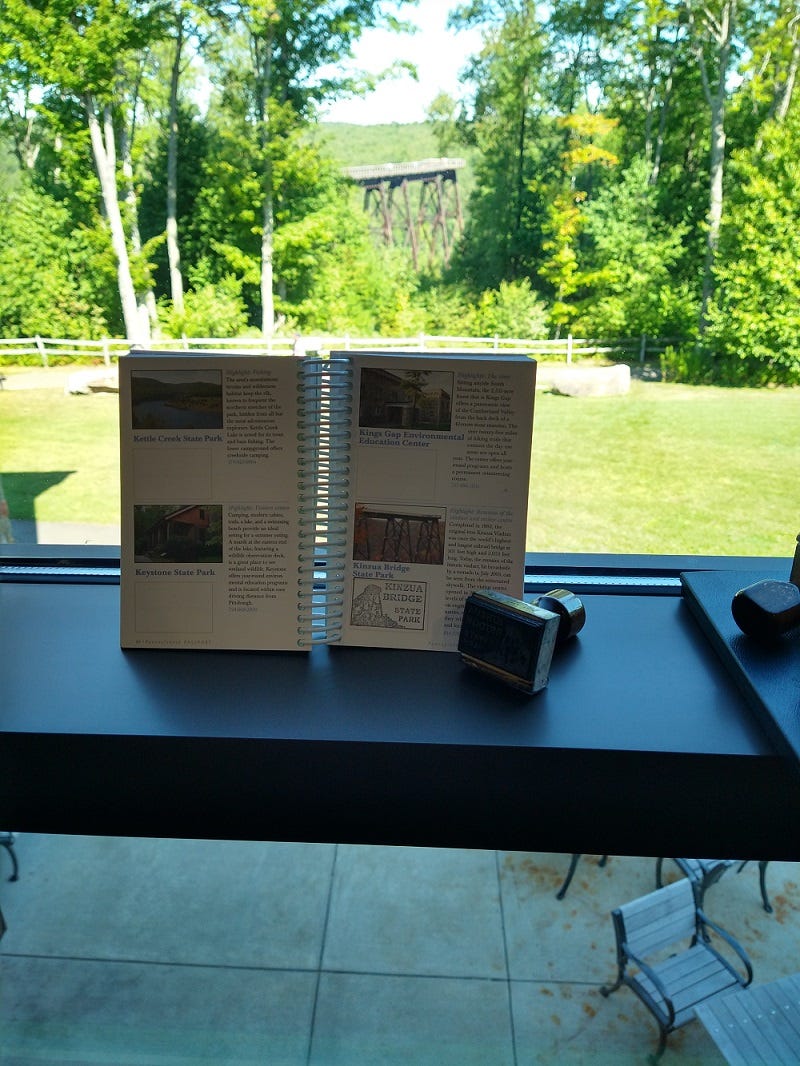 Fun Fact: You can have 3 parks stamped when you visit Kinzua Bridge State Park!
Because Bendigo State Park and Elk State Park do not have a visitor center at their locations, their stamps can be acquired at Kinzua Bridge.
Because the stamps are on the honor system, you can even grab these stamps before you visit Bendigo or Elk State Parks themselves, promising to explore them soon.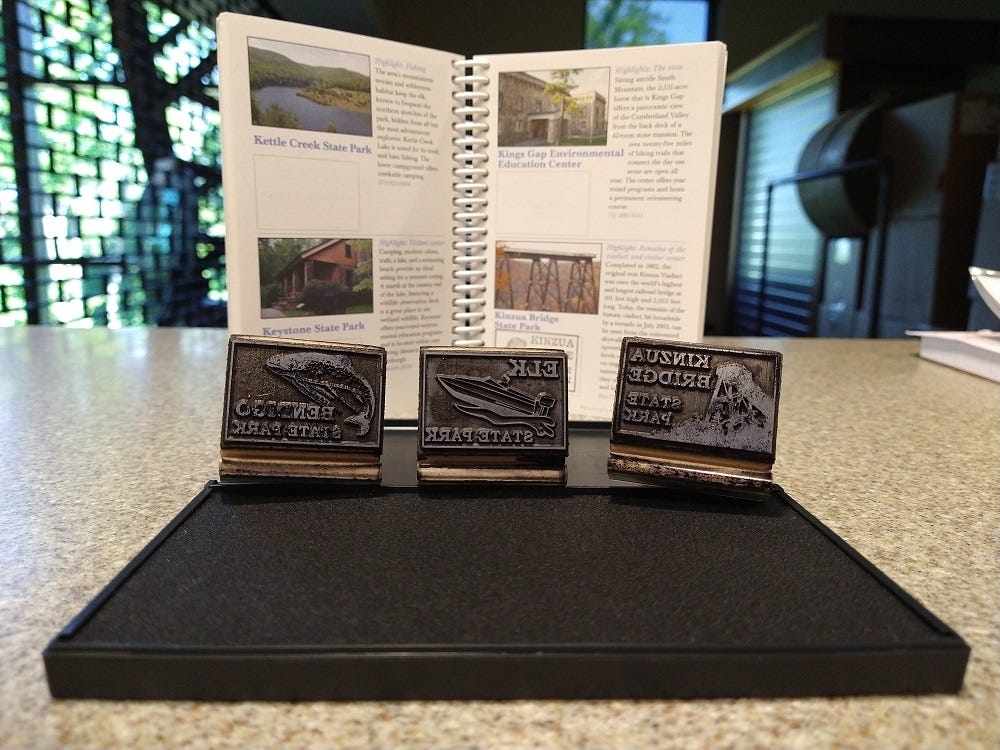 The Pennsylvania Passport not only guides people to our state parks and forests, but it also breaks down interest areas and challenges users to complete each area to receive recognition for their accomplishments with a special metal "dog tag" for the theme.
Jasmyne, a woman we had the chance to talk with in a previous PA Wilds article, shared her story of her goal of visiting all the PA State Parks.
She stopped by our booth at the PA Farm Show in Harrisburg in 2020, eager to share her story and give us a look at all of the places she had visited so far.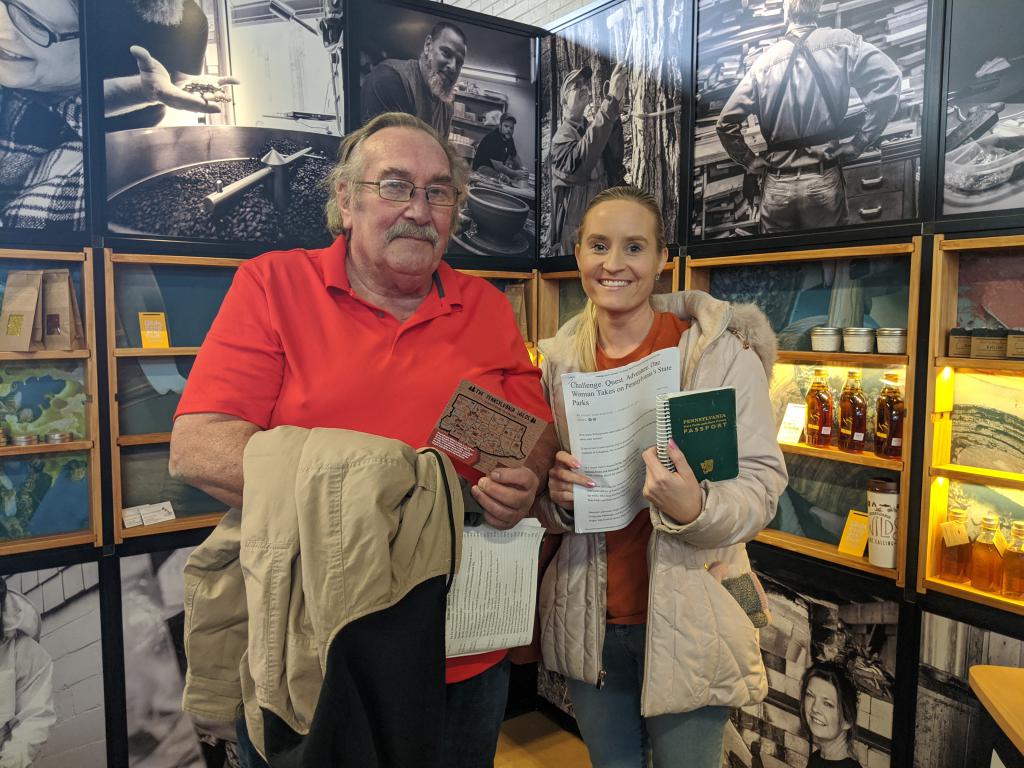 Jasmyne's adventure began around 2013. At that time, she was living near Pittsburgh, and she would meet up with her friend, Roger, who lived in eastern Pennsylvania.
She shared about a day trip to northcentral Pennsylvania to visit a number of state parks in the Pennsylvania Wilds, including Ravensburg, along the I-80 Frontier; Ole Bull, located in the Dark Skies landscape; and Little Pine, one of several in the Pine Creek Valley & PA Grand Canyon landscape – which are all along or near the border of Clinton and Lycoming counties.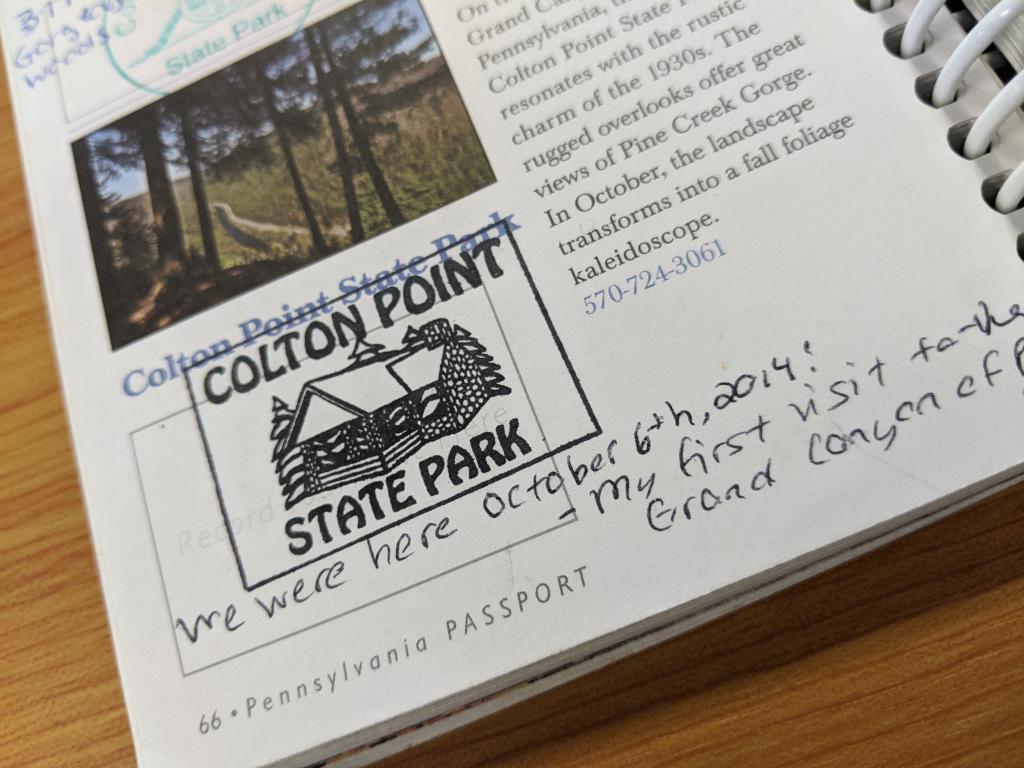 Although Jasmyne's PA State Park Passport Book might look a little worse for wear after all these years of use, you can tell that it's certainly well loved!
The size of the book is small and convenient enough to keep in your car, backpack, day bag or fannypack when you travel.
Despite its small size, it still manages to fit all 121 state parks in it, with room for descriptions and a stamping area for each park.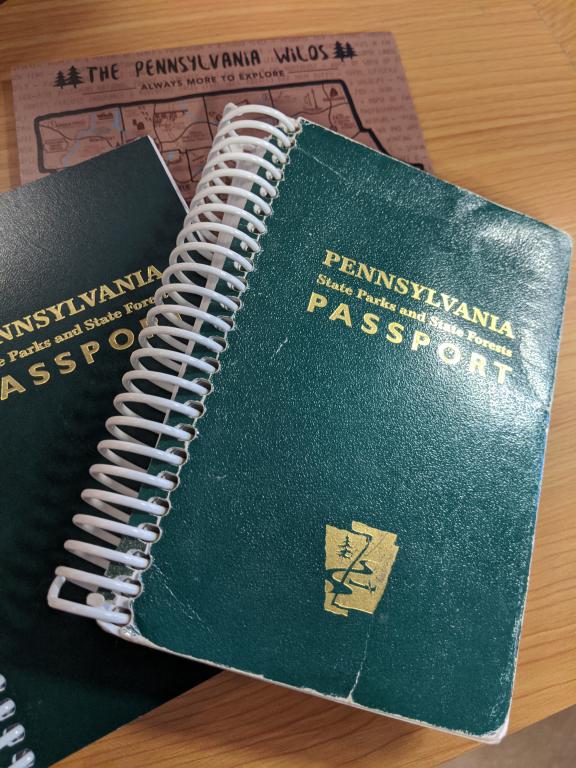 How many state parks and forests have you visited? Do you have a goal to visit them all? Have a fun story about a PA Wilds park you visited? Email bmadera@pawildscenter.orgmailto:bmadera@pawildscenter.org with any stories you'd like shared on the blog.