Can I return my items?
Each Maker (seller) has their own policies regarding returns. Individual policies will vary from shop to shop. If you need to return an item, first, check the Maker's Shop Page to understand their return policies.
Should you need to return an item, contact the Maker you purchased the item(s) from to confirm the item(s) may be returned. All returns must be authorized and contain an issued RMA (Return Merchandise Authorization) number on the outside of the package. Returns must be returned directly to the Maker from whom you purchased the item from.
Should an item arrive damaged or defective, please reach out to the Maker you purchased the item(s) from as soon as possible. It is best to include photos of the damage in your message to the Maker. Work with the Maker to reach a resolution. Please do not send damaged or defective items back to the Maker without their prior authorization.
Work with the Maker to determine your refund method for your returned items, less the original cost of shipping and handling.
To Contact A Maker Regarding A Return:
From your customer dashboard, click on "Return An Item."
Next, click on the "Create Request" button.

Finally, select the order number for the items you wish to return. Fill in the form, including pictures (optional), and click to the "Submit RMA" button.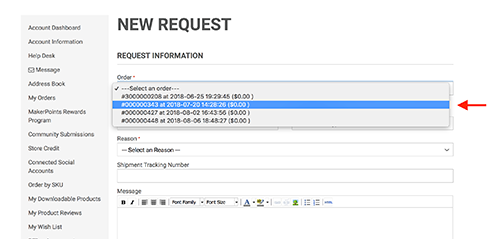 The Maker will receive your request and will respond accordingly.
Please note: The Maker will supply you with an address to send the items you are returning to. Please do not send your return items to the marketplace.