PA Wilds Conservation Shops
Helping regional travelers take home a piece of the PA Wilds
PA Wilds Conservation Shops are gift shops that feature products made in the PA Wilds by local artisans and craftspeople. Conservation Shops help connect PA Wilds travelers with locally made products. They not only create a consistent experience on the ground, but you can easily find them here on the Marketplace, too!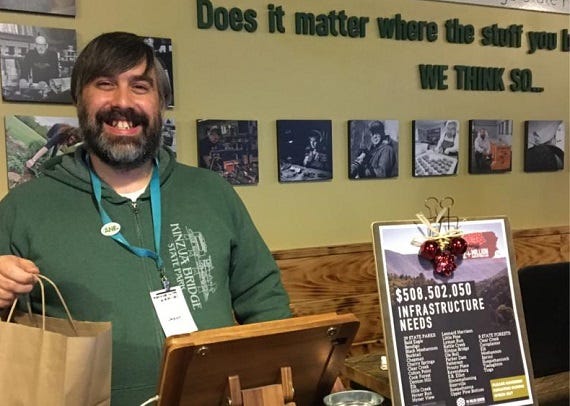 Kinzua Bridge State Park
1721 Lindolm Drive
Mount Jewett, PA 16740
KBSP Store Hours*
Peak season store hours
Daily 10 a.m. to 5 p.m.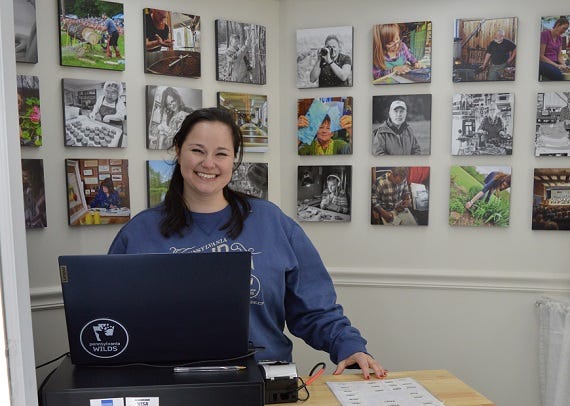 Hills Creek State Park
Our mobile unit, previously at Leonard Harrison State Park, will be at Hills Creek State Park for Summer 2023.
111 Spillway Rd.
Wellsboro, PA 16901
HCSP Store Hours*
Closed for the 2023 season.
*Store hours are subject to change based on season
With Thanks to Our Partner
Strategic partnerships enable PA Wilds Conservation Shop gift shops to be located across the region. Shops located at state parks are made possible by a unique public-private partnership between the PA Department of Conservation and Natural Resources (DCNR), which manages the public lands, and the PA Wilds Center for Entrepreneurship, Inc., the nonprofit that manages the gift shops. The PA Wilds Center is the external lead organization for DCNR's Pennsylvania Wilds Conservation Landscape.
You Can Feel Good About Our Sourcing

Ninety percent of the products featured at PA Wilds Conservation Shops are made in the PA Wilds. The PA Wilds Center, the nonprofit that manages the shops and the PA Wilds Marketplace, spends thousands of dollars each year buying inventory and value-added products directly from local businesses and craftspeople for the Conservation Shops, creating important work opportunities that support families and communities.
The Conservation Shops also carry various soft goods, including PA Wilds-branded and state park-branded t-shirts, totes, hats and other apparel. These are sourced using industry and conservation resources such as One Green Planet's "A Guide to Buying Sustainable, Fair-Trade and Cruelty-Free Clothing." Once Conservation Shop staff finds a responsible company with competitive prices to source the soft goods, they work with local companies in the PA Wilds to place the order for 'blanks.' Then the local companies are hired to give the products their value-added component, be that creating a design for a new line of t-shirts, stitching embroidered patches on fleece jackets, screen printing, or some other service.
It's not a perfect system, but it is one that the PA Wilds Center has put a lot of thought into, that lives up to our Brand Principles, that is making a difference to small-scale producers and business owners in rural PA – and that we feel you, the consumer, can feel good about.
According to the American Independent Business Alliance (AMIBA), independent locally-owned businesses – like those involved in The Wilds Cooperative of PA and our gift shops – recirculate a far greater percentage of revenue locally compared to absentee-owned businesses or locally-owned franchises. AMIBA reviewed 10 studies in this area, concluding that "on average 48 percent of each purchase at local independent businesses was recirculated locally, compared to less than 14 percent of purchases at chain stores."
In other words, when you spend locally at our gift shops, it allows us to spend locally on inventory, and then those businesses spend a large part of that investment locally. It's one great big reinforcing circle of goodness, and we appreciate you being part of it!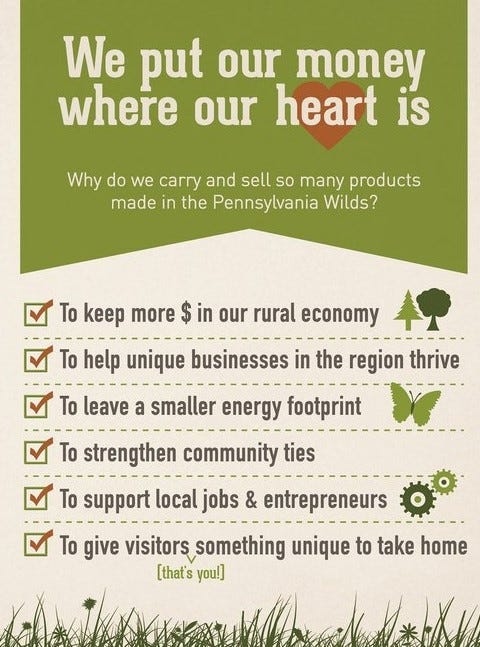 Community partner shops are supported by strategic partnerships with local organizations, including the Lycoming County Visitors Bureau, Downtown Lock Haven, Inc. and the Bradford Regional Airport. Although these shops are not operated by PA Wilds Center staff, the community partners are supportive of the PA Wilds mission to integrate conservation and economic development in a way that strengthens and inspires PA Wilds communities, and they have shown a commitment to sourcing products and services from members of the Wilds Cooperative of Pennsylvania.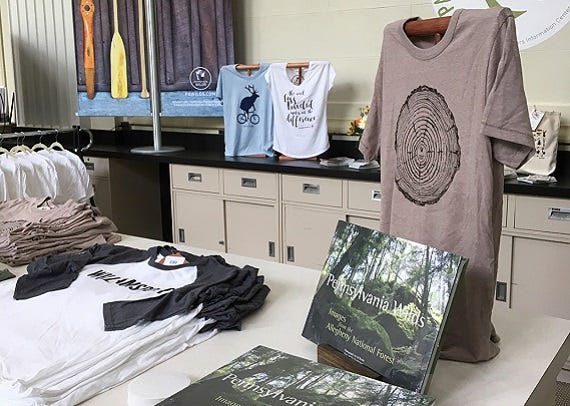 Lycoming County Visitors Center
102 W 4th St.
Williamsport, PA 17701
This satellite shop opened in April 2018 in Williamsport, the largest city in the Pennsylvania Wilds. Tens of thousands of people live in the city, and many more visit throughout the year for some of its signature events, including Little League Baseball, which hosts international teams. Products are geared toward the local natural assets and themes, such as baseball tees and gear reminiscent of the Pine Creek Rail Trail, a 63-mile bike trail with a terminus in Lycoming County, as well as PA Wilds branded merchandise.
LCVC Hours*
Tuesday through Friday 10 a.m. to 3 p.m.
Saturday 9 a.m. to 3 p.m.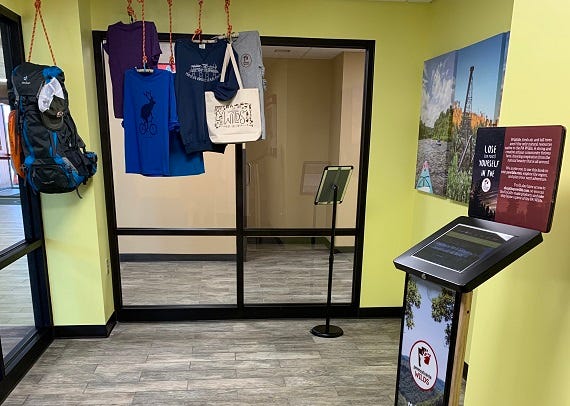 Bradford Regional Airport Kiosk
212 Airport Rd.
Lewis Run, PA 16738
The PA Wilds Conservation Shop Kiosk at Bradford Regional Airport helps travelers orient themselves to the Pennsylvania Wilds when they land in Bradford. A room inside the entrance of the airport showcases products that were made by PA Wilds artisans and reflect the region. A tablet allows visitors to peruse things to see and do in PAWilds.com and find regionally made wares at ShopThePAWilds.com. No physical sales currently take place at the site.
BRAK Hours*
Daily 6 a.m. to 9 p.m.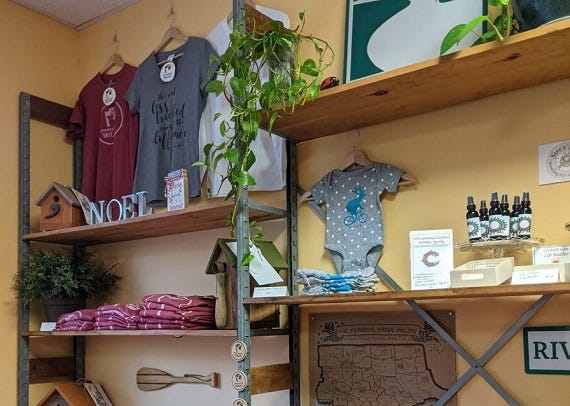 Wilds on Main
205 E Main St.
Lock Haven, PA 17745
Opening at the end of 2022, the Wilds on Main store resides in the Downtown Lock Haven, Inc. office. Some of the products include Sue's Salves and PA Wilds apparel printed by Xtreme Wear, as well as other companies that are based in Clinton County. Other products made in the 13-county PA Wilds region are available as well, including items featuring the PA Wilds logo. Downtown Lock Haven, Inc. has agreed to reinvest 80 percent of sales revenue to purchase additional inventory from PA Wilds makers.
WOM Hours*
Wednesday 1 to 5 p.m., Friday 1 to 6 p.m.,
Saturday 11 a.m. to 3 p.m.
*Store hours are subject to change based on season