Connecting socially-conscious consumers with products proudly made in the Pennsylvania Wilds
The PA Wilds Marketplace features products that have been handcrafted by artisans and craftspeople living and working in the Pennsylvania Wilds, a 13-county region known for its vast public lands, outdoor experiences, maker culture, and stewardship ethic.
These quality products celebrate the beauty, bounty and rural traditions of the PA Wilds. And you can too! Through this Marketplace, you help sustain our region's small businesses and our rural communities.
Check out the video at right to meet four of the artisans selling products on the PA Wilds Marketplace and learn how shopping on the platforms supports small businesses like theirs.
The PA Wilds Marketplace is part of an entrepreneurial ecosystem that is managed by the PA Wilds Center for Entrepreneurship (PA Wilds Center), a regional nonprofit. This ecosystem is built around the place-based brand of the PA Wilds, and it includes physical gift shops known as PA Wilds Conservation Shops and the Wilds Cooperative of PA (WCO), a value chain network of more than 350 artisans, craftspeople, creative entrepreneurs and nonprofit organizations.

Products featured on the PA Wilds Marketplace have been made by members of WCO, right here in the PA Wilds. We are people who live and work in rural PA, love what we do, and have proven through a jurying process that we are good at doing it.


Wilds Cooperative of PA • PA Wilds Center • PA Wilds Conservation Shops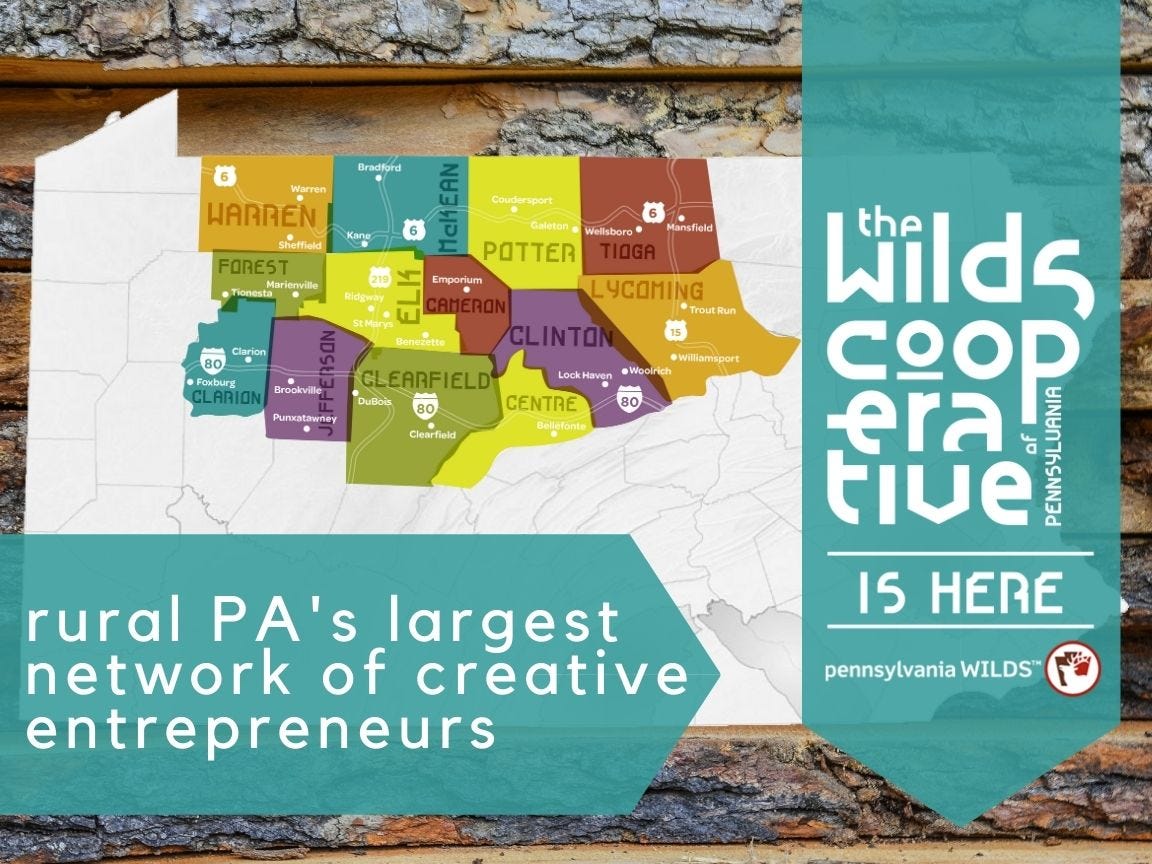 More About the Inspiration
The PA Wilds covers a quarter of the Commonwealth but is home to only 4% of the state's population. Our region is home to more than 2 million acres of public land, including the state's only national forest, 29 state parks, 8 state forests, 50 state game lands, two national wild and scenic rivers, the largest wild elk herd in the northeast, internationally-certified dark night skies, and many more incredible outdoor experiences.
These are the sights and sounds that inspire our rural makers -- and they've also inspired the thematic subregions we've identified to help you explore our region, and the products inspired by it, even further.
Checkout for Conservation
If you'd like to help support our region's incredible state parks and state forests, you can do that at check-out. If you live in the PA Wilds or have visited, you know that our parks and forests are special places -- and they're totally free to the public. We must all do our part to steward America's public lands. One hundred percent of donations collected are given to the PA Parks & Forests Foundation for reinvestment back into the region's 29 state parks and eight state forests. It takes a village, and we appreciate you being part of ours!
Want to Sell on our MarketPlace?
Are you an artisan, craftsperson or small-scale manufacturer located in the PA Wilds? If so, you may be a fit for our Marketplace!

Long story short, you need to join the Wilds Cooperative of PA (WCO) in order to be eligible to sell on the PA Wilds Marketplace. You can learn more about what it takes to join the program here.