April 28, 2023
17 view(s)
As the largest block of green space between New York City and Chicago, the PA Wilds is perhaps an obvious home for a cryptid known as Bigfoot is thought to prefer rugged mountainous terrain with lower populations of people. Our region takes up approximately a quarter of the Commonwealth's landmass and is home to more than 2 million acres of public lands — that's land that is available to all of us for free, and it is managed by the PA Department of Conservation and Natural Resources. That's a lot of territory for Bigfoot to enjoy!
Some people spend their entire lives searching for this elusive creature. He's hard to spot in the forested hills of the PA Wilds, but Bigfoot is easy to find on the PA Wilds Marketplace! We have some specific products to celebrate the hairy bipedal creature that seems to elude us all.
Celebrate your love for Bigfoot with some PA Wilds gear! Whether you're looking to don a t-shirt, promote your Bigfoot love on your other gear with a sticker, or to share details with your loved ones — we've got you covered.
Learn more about Bigfoot in the PA Wilds!
Kinzua Bridge State Park Visitor Center
One of the more popular exhibits of the Kinzua Bridge State Park Visitors Center is the Myths and Legends cabinet, which shares testimonials, information, and artifacts about a number of myths and legends surrounding the Kinzua Bridge.
Take a trip to the Allegheny National Forest and Surrounds landscape of the PA Wilds to take in all the details in person!
Available only in the store at the PA Wilds Conservation Shop at Kinzua Bridge, you can find postcards featuring the story of Bigfoot.
Peer out the giant window at the visitor center, or take a look over the edge of the Kinzua Bridge Skywalk... maybe you'll be lucky enough to spot Bigfoot himself, walking through our PA Wilds forests!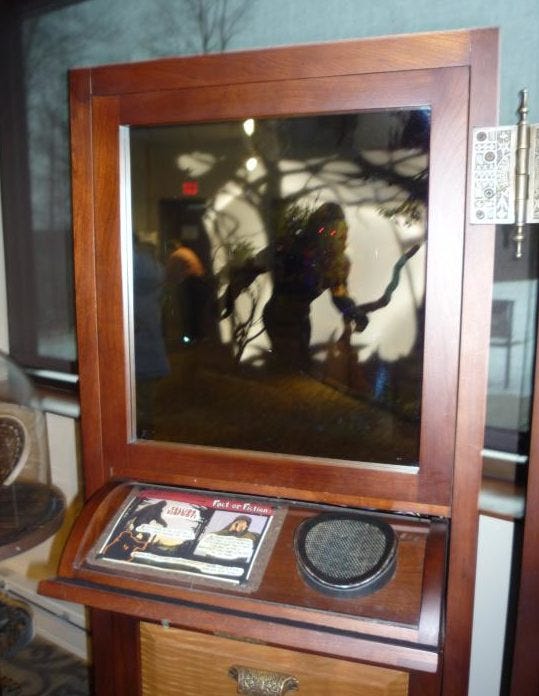 Depot at Doolittle's
Along the I-80 Frontier landscape of the PA Wilds, you'll find Depot at Doolittle's, a special place in the PA Wilds! Featuring a series of independent train cars with unique experiences inside each one, the site is also home to a fun statue of Bigfoot!
The Depot at Doolittle's offers creative ventures to draw visitors from all over the country, including five restaurants — four housed in train railcars — that feature fine or regular dining, a brewery, and brick oven pizza; railcars that have been converted into beautiful B&Bs; and a large animatronic dinosaur exhibit, possibly the largest in Pennsylvania.
The Depot won the 2019 PA Wilds Great Places Champion of the Year Award due to the innovative asset development and promotion that have worked together to create a unique tourism destination within the PA Wilds.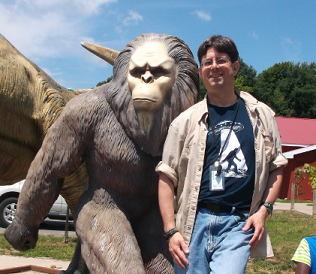 Attend a Bigfoot-themed event!
There are two events now taking place in the Allegheny National Forest & Surrounds landscape of the PA Wilds that celebrate Bigfoot!
The Forest County Bigfoot Festival

This new festival is a family friendly event with something fun for everyone. This event will feature a virtual bigfoot hunt, crafters, food vendors, guest speakers, live bands, family activities, geocaching event, a 5 K fun run, and games sponsored by the Forest County Business Alliance. The 2023 event is slated for Friday, June 9 beginning at 6 p.m., and festivities will take place through Sunday, June 11 at 4:30 p.m. It takes place on Main Street in downtown Marienville, PA.
SquatchFest

Welcome to the "Squatchfest" music festival held annually at the Kane Family Drive In Theater, Kane Pa. This year's event is on Saturday, July 22 featuring incredible bands, food, games, and prizes! This is a family friendly event offering kids activities in the rear of the venue. Don't miss the Sasquatch calling event, with potentially an appearance of Bigfoot himself if the calls are successful.