January 9, 2022
250 view(s)
A new tool is now available to people looking for unique places to visit in the rural Pennsylvania Wilds, a designated 13-county region in north central and northwest Pennsylvania!
The PA Wilds Outdoor Discovery Atlas features over 45 pages of travel inspiration and useful details for navigating to some of the region's most popular destinations as well as other points of interest.
A print companion to pawilds.com, the PA Wilds Outdoor Discovery Atlas is organized by Landscapes, or thematic sub-regions, to help travelers easily find the region's headliner experiences! Each Landscape section showcases inspirational photos; unique characteristics, communities, and destinations; and a directory of visitor organizations serving the landscape to help travelers plan their trips.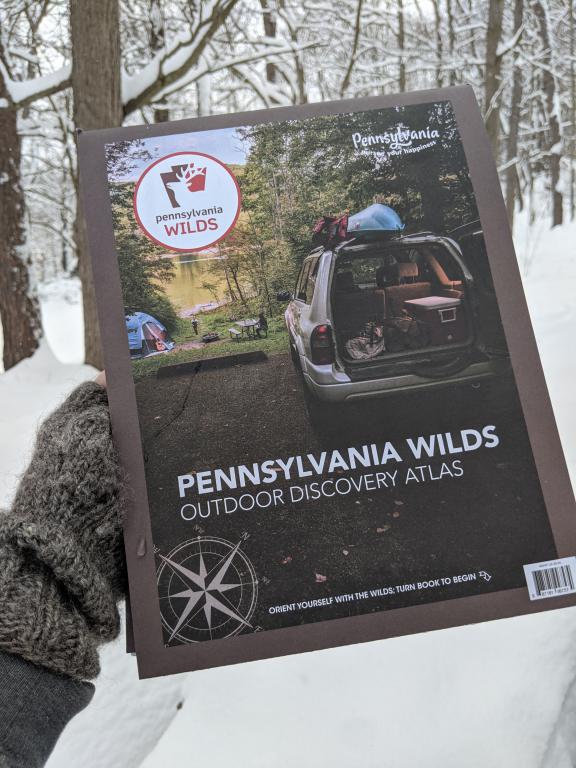 The directory at the end of the Atlas also calls out trails by activity, to try to help avid trail users locate some of the best trails in the region! In addition, the Atlas takes a moment to appreciate the region's rich lumber heritage and conservation legacy.
Thanks to partial funding from the PA Department of Conservation and Natural Resources (DCNR) and the PA Wilds Marketing Corporation, PA Wilds Center began to develop a new map of the PA Wilds back in late 2018.
"This is the first PA Wilds-branded print map of the region since 2010," said Ta Enos, CEO of the PA Wilds Center for Entrepreneurship (PA Wilds Center), the nonprofit that produced the Atlas. "So much has changed on the ground since then, with new state-of-the-art visitor centers, trail connections and other outdoor rec asset improvements in so many communities. When the PA Wilds core marketing infrastructure integrated into our nonprofit in 2016-17, the map project was at the top of our list to overhaul and get back into print."
The PA Wilds Outdoor Discovery Atlas is now available at the PA Wilds Conservation Shop at Kinzua Bridge State Park, 296 Viaduct Road, Mt. Jewett, PA, or online at ShopThePaWilds.com. The Atlas will also be available for sale via regional partners. Retailers and organizations in the PA Wilds that are interested in selling the PA Wilds Outdoor Discovery Atlas are invited to do so.
To purchase your copy today, click here! For more information, or to access free content from the Atlas, visit pawilds.com/outdoor-discovery-atlas. Check out the full press release about the PA Wilds Outdoor Discovery Atlas.