What Inspires Lisa Conklin Conn
Lisa Conklin Conn is a clay artist who sculpts stoneware and porcelain by hand. Although she had taken ceramics classes in high school, Lisa did not actually pursue clayworking until several years late. She now calls the northwest PA region of the Allegheny National Northwest her home and studio. She says the beauty of the forest is a wonderful backdrop for creating, and her love of animals and nature inspires her sculptures.
In this interview, the artist discusses inspiration, upcoming shows and her definite aha moment.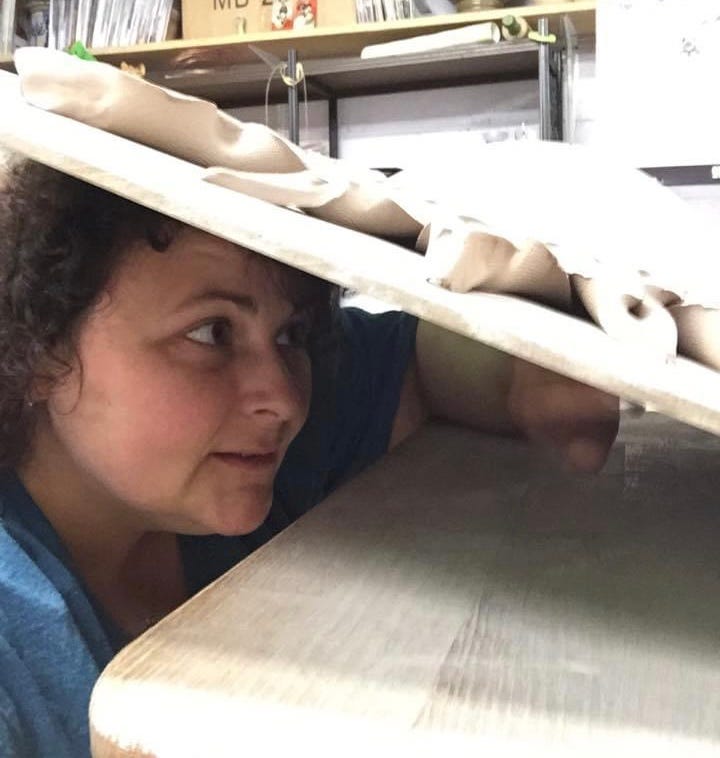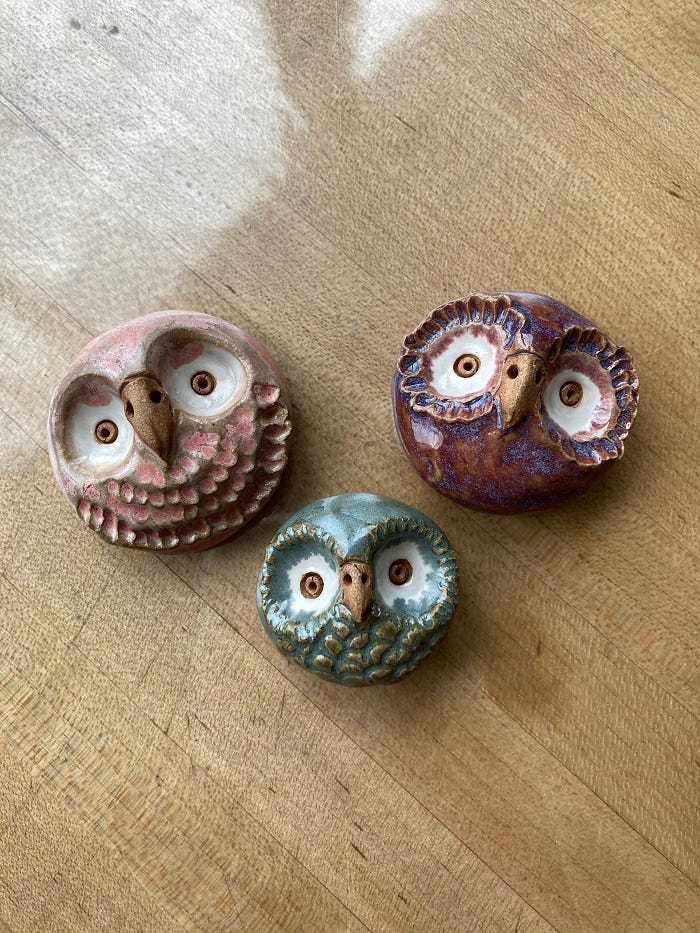 Tell us a little about yourself
I am a clay artist from McKean County making hand-built garden art pottery.
When did you know that you wanted to be an artisan (your aha moment)?
Definitely in my first ceramics class in high school. I absolutely fell in love with sculpting, and that's when I actually thought maybe I could pursue it.
What is your signature art piece?
My owls have become my signature pieces. It started from a crazy little thing I created late one night that made me laugh out loud. So weird.
Your favorite part of the creative process? Tools? Materials? Technique? All of it!
As much as I love sculpting clay, I really enjoy the relaxing process of glazing the most. I brush my glazes by hand. Something about it is peaceful to me, soothing almost.
What type of music or podcasts do you play while creating?
Currently I prefer working with no radio or background noise. I adore the silence in my studio, maybe because the rest of the world is so loud. In the rare time I have music on, it's usually the classics I grew up with: Simon and Garfunkel, the Eagles, Fleetwood Mac.
Studio mascot?
Not sure about a mascot really. I have always had cats and dogs with me while I work. Something about the quiet company of an animal. I don't really have studio assistants. More like studio hinderances!
What are you looking forward to currently? Perhaps looking forward to an online or in person class to up your game as a potter, being an artist full-time, new line of pottery, collection?
What I'm most looking forward to is having the time to grow my business and take advantage of opportunities I have not been able to before now. After 13 years of establishing my pottery business, I made the decision to leave my full-time manufacturing job of 20 years and focus on what I have always dreamed of doing.
Take the "this is it" moment I first felt all those years ago in high school ceramics, and simply be that. I'm very excited to be able to fully focus on being the artist that I'm supposed to be. That weird little part of myself that is my calling in this world. I've been sidetracked for years and have had to keep my creativity on the back burner. It's a very exciting time for me right now.
What most inspires YOU out in this big beautiful world?
Definitely the natural world that I'm surrounded by. The flora and fauna in my own backyard of the Allegheny National Forest. Technology can be wonderful. Manmade structures can be amazing. But nature… that's where my heart lies. Have you ever looked at the little world on tree bark? The moss and insects or fungi? Wonderful!! Or the contents of a river bed? The pebbles and crayfish or salamanders? Amazing!! Our natural world is magic. You just need to see it.
How do you promote your business (newsletters, business cards, shows, video, classes, memberships, online groups, etc.)?
I try and post on social media frequently. My goal now that I'm full-time is to post daily on my Instagram and Facebook pages. I'm currently working on a monthly newsletter email that will show you behind the scenes chaos in my studio. I can't wait to launch that. It's going to show you all my weird humor I try to keep tucked in!
Favorite social media or new experiments in social media?
I really enjoy Instagram currently. I'm still pretty much sticking with posting photos as opposed to videos. (I don't like my videos... you can really see how much of a dork I am.)
Tell us the story behind a collection or a piece?
Gotta be my handmade mug collection. It's stupid large. I don't make coffee mugs. I collect them. I have a multitude of sizes, colors and styles by a big variety of potters. I love coffee, and that first cup in the morning in one of those mugs is the best part of crawling out of bed for me. It is literally my personal skills in a cup! I have a list of potters that do amazing work that I adore, and my goal is to get one of their mugs to enjoy. It's a weird obsession.
What do you have coming up (shows, publications, travel, rebranding)?
Upcoming fun stuff…. I'm working on an owl magnet design for my hometown of Bradford, PA. Our school mascot is an owl. I've been wanting to do that for a couple years now. A percentage of the funds will be going back into the community. I'm hoping to launch it early this summer.
My first show of the season was March 17-20 at the garden and Landscape show "Plantasia" in Hamburg, NY. Garden art is what I really love to create. I'm so excited to be in this show.
I will have a booth at the Bantam Jeep Heritage Festival on June 10, 11 and 12th near Butler, PA. I will have a variety of Jeep and off-road themed clay creations that I'm really excited to make. I absolutely love being a Jeeper and have attended the festival multiple times as a spectator. I can't wait to be there as a vendor. Being able to tie those two loves together is going to be awesome!
I also will have a booth in Warren, PA for Warren Pride on June 18. They actually approached me to do a booth. I'm not sure about other artists, but when someone approaches me and asks me if I'm interested in doing their show? That's a huge compliment and very humbling for me personally. I'm really excited about being there because I couldn't do it last year.
I have more applications out for other shows but they are all pending acceptance so I'm not 100% sure what other shows I will be accepted into yet.
A NOTE FROM THE AUTHOR: Thank you, Lisa, for taking the time for this interview! Your answers were amazing and so authentically you. <3
Learn more about Lisa Conklin Conn and shop for her products: https://shopthepawilds.com/conklinstudiopottery
About the Author, Stephanie Distler
Stephanie Distler is a self taught jewelry artist. Using nature for inspiration, she designs and creates artisan jewelry together with hand tools using precious metals in wire or sheet form.
This piece was originally posted on Stephanie Distler's blog.
Shop Stephanie Distler Artisan Jewelry on the PA Wilds Marketplace!