November 15, 2021
180 view(s)
When did you start your business and how?
Growing up I was always artistic so after high school, I chose to pursue a degree in graphic design and photography. While in college I dabbled in painting on glass vases and wine glasses and, almost by coincidence, I bought two small wooden framed windows at a yard sale. My first wildlife window paintings were an elk and a turkey and then slowly I started to paint more animals on more windows. With only a handful of paintings, I set up in 2017 at the annual Ridgway Chainsaw Rendevous and started to think that this could be the beginning of something. Being a self-taught painter, I started to focus a lot on creating as I started to sell more paintings but I missed also being a graphic designer. I then began balancing the painting by designing Elk County and outdoor lifestyle-inspired stickers that grew into designs onto t-shirts. This was the beginning of PA Made. I always describe it as a 0-60 experience because it happened so organically yet all-of-a-sudden. Looking back I never imagined I own my own business but it's become one of the most important parts of my life.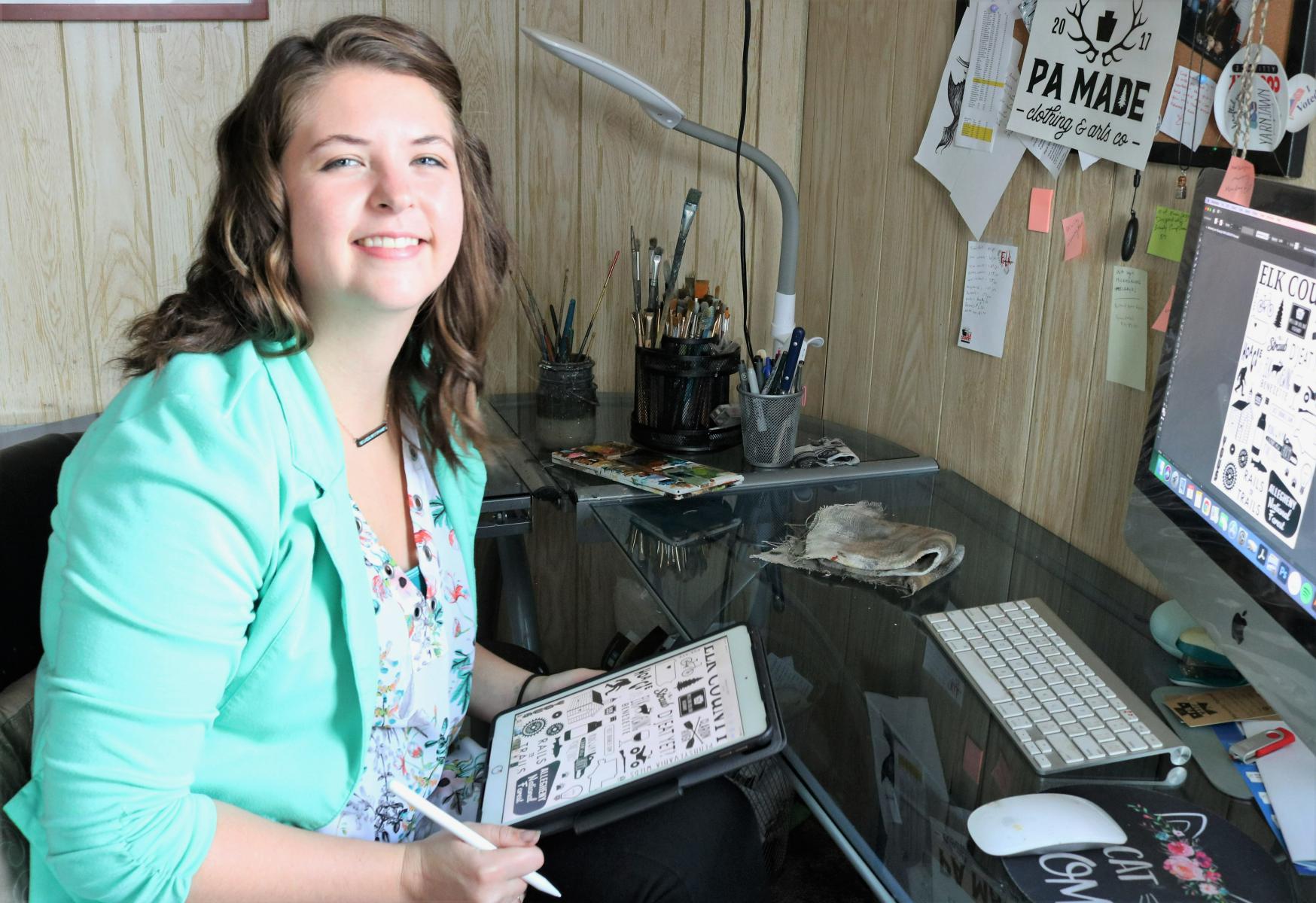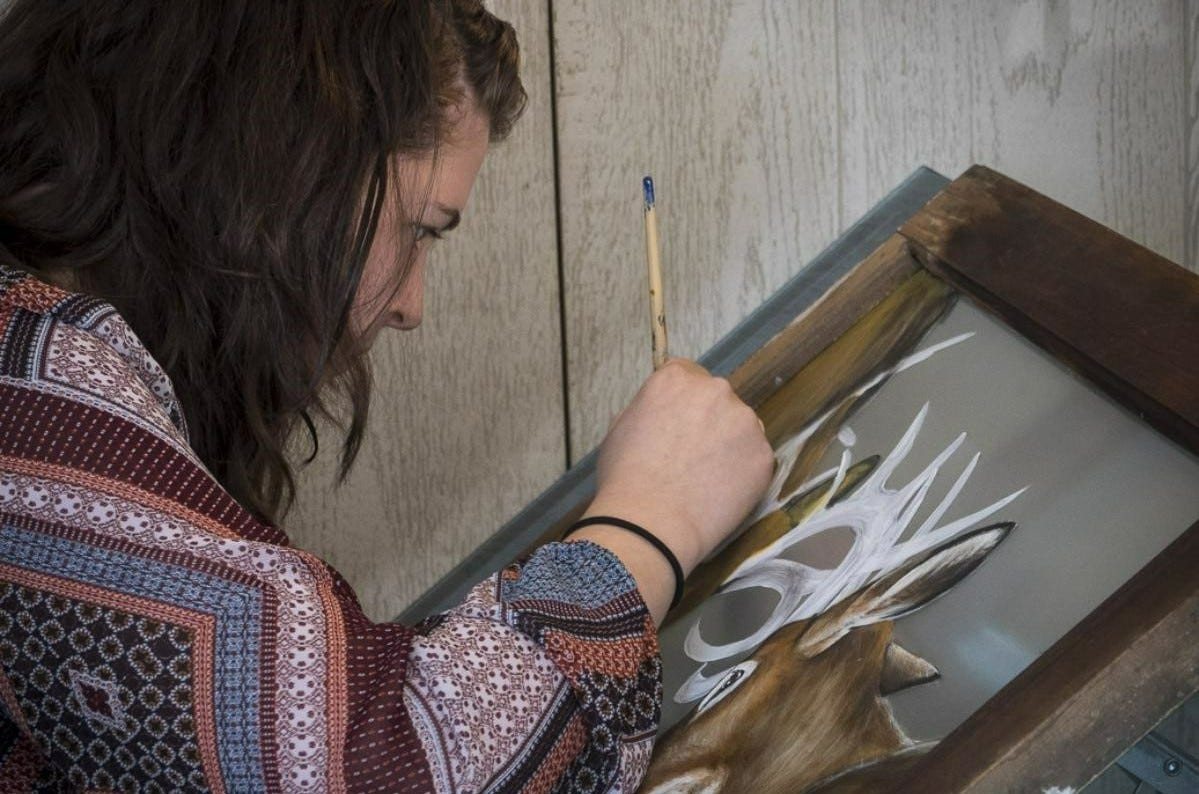 How did you come to live in the PA Wilds?
Seventeen years ago my parents made the crazy decision to pick up and move from Southern California to Weedville, Pennsylvania. I was about 10 years old, so I always say I was born in California but I grew up in the Pennsylvania Wilds. Everything was so different here. The lush green trees, abundant wildlife, and the kind welcoming community made a huge impact on me. I believe that impact is what continues to inspire me today and what drives PA Made.
What most inspires you?
The site of a bulging elk backdropped with rolling mountains as far as the eye can see still takes my breath away and those moments are what I always hope to capture in my paintings. I focus on spotlighting all the beautiful special things about Pennsylvania that I noticed all those years ago when I first moved here. Not only are the sites special but so are the people and the community. That's what inspires a lot of my graphic designs for my stickers and t-shirts. For example, the way people will say 'crick' rather than 'creek' or the way that hunting and wildlife aren't just a hobby but who they are. I am motivated by the continued love and support of my community and the people who love nature as much as I do.
Do you offer workshops and demonstrations (or will you!?)
Recently, 2020 (with all of its obstacles) was actually a very exciting year for PA Made. It was the year I was able to work with the Elk County Conservation District on two "Upstream Art" Murals, which were two murals painted near storm drains to educate the public on the importance to keep stormwater clean in order to keep our streams clean for our local wildlife. The murals featured wildlife and plant-life that would live in or around our water sources with messages like "only rain down the drain". The project not only aligned with PA Made's mission of conservation but also allowed the conservation district and I to publically demonstrate art and education.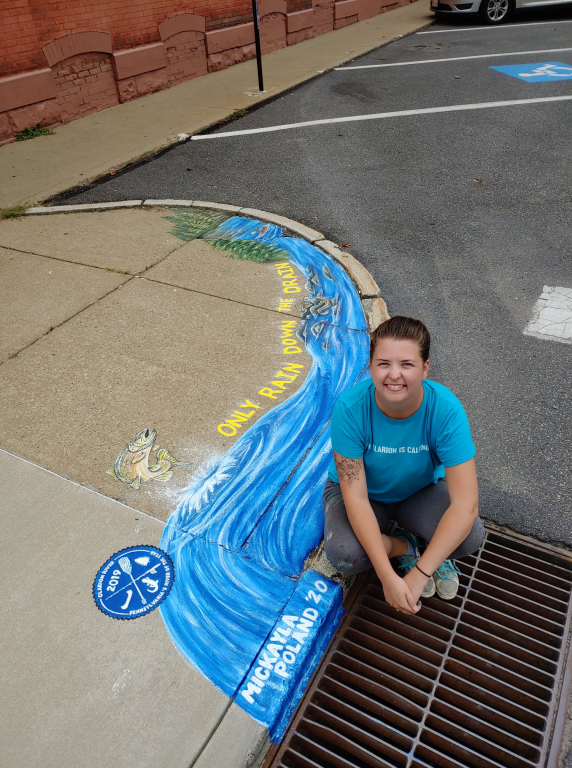 It was also my first year as a Elk County Council of the Arts (ECCOTA) Arts in Education teaching artist. I was able to work with middle school-aged children to teach some fundamentals of art and create a puzzle-themed final art piece. In 2020, PA Made also began to offer virtual 'paint nights' where I would ship kits filled with everything needed for the project and we would meet via zoom for painting instruction and lots of fun. I've been able to offer similar virtual paint nights as fundraising events with organizations like Western PA Bleeding Disorders Foundation, where ticket and paint kit proceeds go to a great cause. I hope to continue to have opportunities for demonstrations and classes both in-person and virtually in the future.
PA Made is on the Marketplace!
Can you talk about your ambassador program?
Earlier this year PA Made put out an open call for brand ambassadors. This was a program that I wanted to create for several reasons: first, to promote the ambassador's pride in the PA Made brand, second to provide marketing and promotion opportunities for the brand, and lastly, my ambassadors would curate authentic photographs of them rocking and loving PA Made products. I wanted my brand ambassadors to not only align with PA Made's values and mission of wildlife, outdoors, and PA pride but they needed a strong social media presence so they can share their love with as many people as possible. I had so many amazing people interested in being an ambassador but ended up choosing 6 people (4 women and 2 men). All six individuals are unique in their own way from their job to their location within the PA Wilds and each are a vital part of our brand. I love how the program is going because I've really gotten to know my ambassadors as friends, I enjoy hearing from them how much they love the brand along with sharing their love via social media, and I've gotten some great photographs from them. I'm excited to see how this program can grow and how we can add to the PA Made brand ambassador family.
---
"I am motivated by the continued love and support of my community and the people who love nature as much as I do." - Mickayla Poland
---
Name one or two of your favorite places in the PA Wilds. Which PA Wilds landscape are they in?
Of course, my home is one of my favorite PA Wilds landscapes...Elk Country. Benezette was my backyard and playground for so many years and was one of my first inspirations. Now I live in St.Marys where I can find one of my favorite hangouts, Straub Brewery. On the weekends, I can be found floating on the Clarion River or biking the Clarion-Little Toby Rail Trail. I have so many other favorite places throughout the PA Wilds like Cooks Forest, Kinzua Bridge Sky Walk, ANF, and the Kinzua Dam Hiking Trails. It's really something special that I get to live, work, and play in the PA Wilds region.
A PA Wilds Champion
---
MicKayla Poland was selected at the 2021 PA Wilds Champion Great Design Award for her work. She is known for her love for Pennsylvania, Elk County, and the PA Wilds because her business is all about supporting and showcasing subjects from the Commonwealth. Much of her original artwork features the wildlife of the area. Learn more about Mickayla's work and award at pawildscenter.org/champions.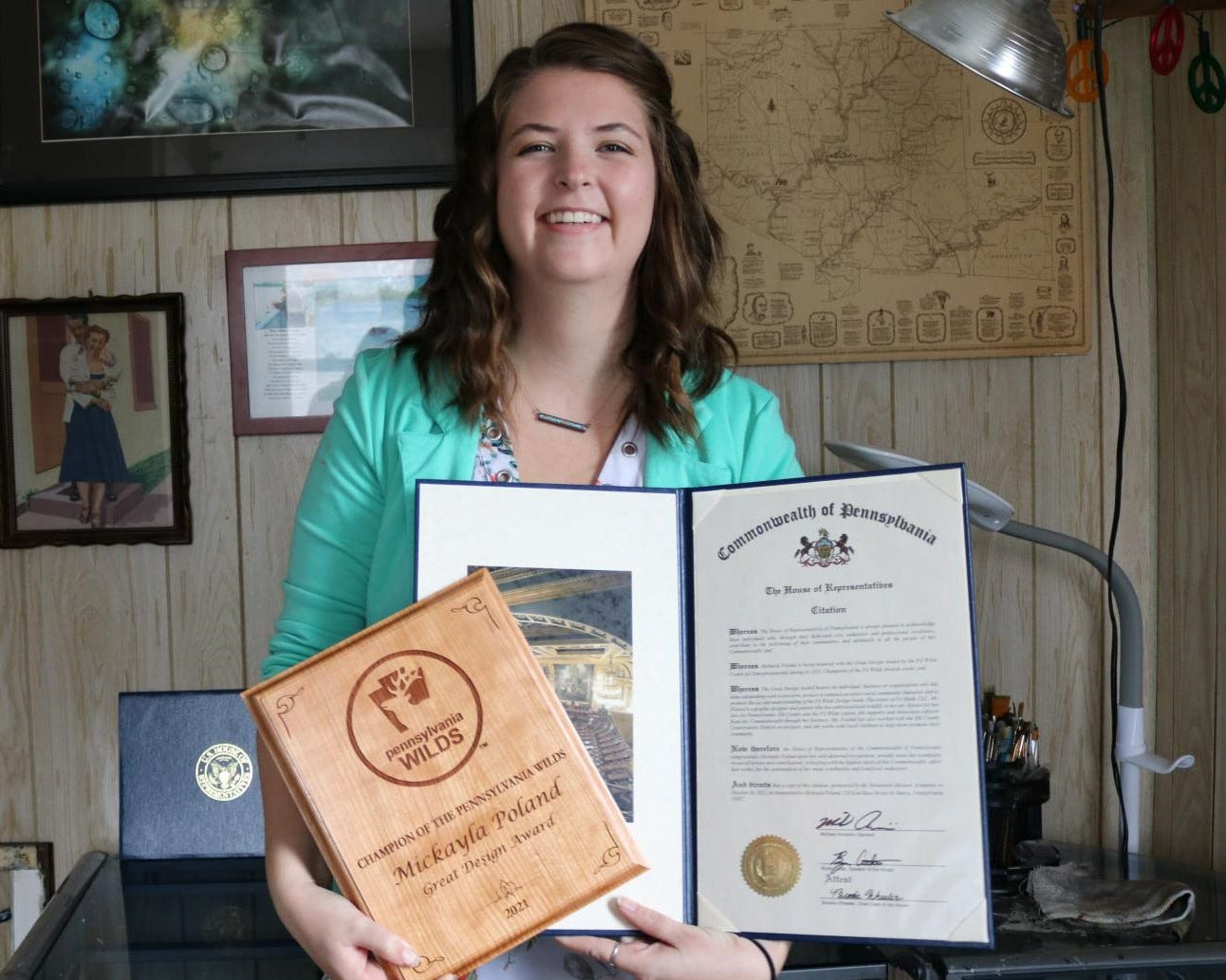 ---