When you purchase something from the PA Wilds Marketplace, you know that it's been sent with love from one of the artisans who lives and works in this region. They truly appreciate each and every order that they get, and they know that their products will find happy new homes with the people who order them.
Some of our PA Wilds Marketplace makers go above and beyond when they package and ship your order.
Check out some of their responses for an inside, behind-the-scenes look at how they prepare your orders and get them ready to ship.
Kevin Coolidge sells books, including his famous The Totally Ninja Raccoons series, and he's been selling books online since 2003.
Kevin uses cardboard cut to the specific size of the book and then wraps it in a water resistant package. It's quite successful in getting those books undamaged to the right hands.
Kevin also signs his books and put in a little thank you card and usually a sticker saying thank you for supporting his small business.
Visit Kevin Coolidge's PA Wilds Marketplace storefront.

A special note from Huck the Cat, who helps package Kevin's books:
Hello humans,
I am Huck. I'm the hardest working cat in the book business. I wrapped your package and I hope you enjoy your purchase.
If you are satisfied, I would appreciate a pet, praise or some other positive feedback. I'm a cat and I thrive on the attention.
I am also in a book called "Huck & Finn, Bookstore Cats" I think it's a great book for those who love cats and books. I share it with my brother Finn.
It's a picture book and you can buy it from my store. All proceeds go to buying me food, cat litter, cat toys and cat treats.
Thank Mew
Huck the Cat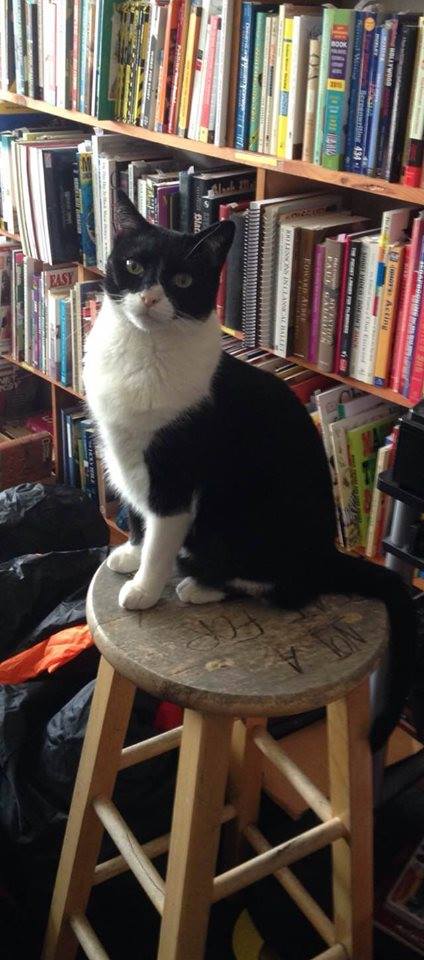 One big, exciting thing that The Wild Botanica is currently improving upon is the transition away from sticker use on packaging. Recently, they invested in various sized rubber stamps with The Wild Botanica's business logo to brand gift boxes, paper bags, and tags instead of using stickers. The ink they will be using is actually made from algae, which means that it is VOC-free, 100% biodegradable, and renewable!
Each of The Wild Botanica's artisan soaps are wrapped in a USDA approved and EPI certified eco-friendly shrink film called Biolefin™ that is both biodegradable and compostable. This wrap protects our soaps while they are in storage and on shelf displays in retail locations throughout the Pennsylvania Wilds.
Gift wrapping is available to customers who purchase gift boxes, gift sets, and other branded merchandise. We utilize simple and natural jute twine, decorative burlap bows, and paper gift tags.
The Wild Botanica's gift boxes are made of recyclable corrugated cardboard, which is lightweight but sturdy, and filled with reusable shredded brown crinkle kraft paper filler that keeps our soaps safe and secure while in transit to customers.
Read more about The Wild Botanica's environmentally friendly packaging here.
Stephanie Distler Studios
Having a designated and organized shipping station in Stephanie's studio has been key to making the shipping experience a joyful one through the years.
Writing messages for each customer, on every packing slip, along with wrapping them like a gift makes her smile! :)
Stephanie says that the opening experience is everything, because when she herself orders from makers those extra touches do carry through on that piece for her.
Visit Stephanie Distler Studios' PA Wilds Marketplace storefront.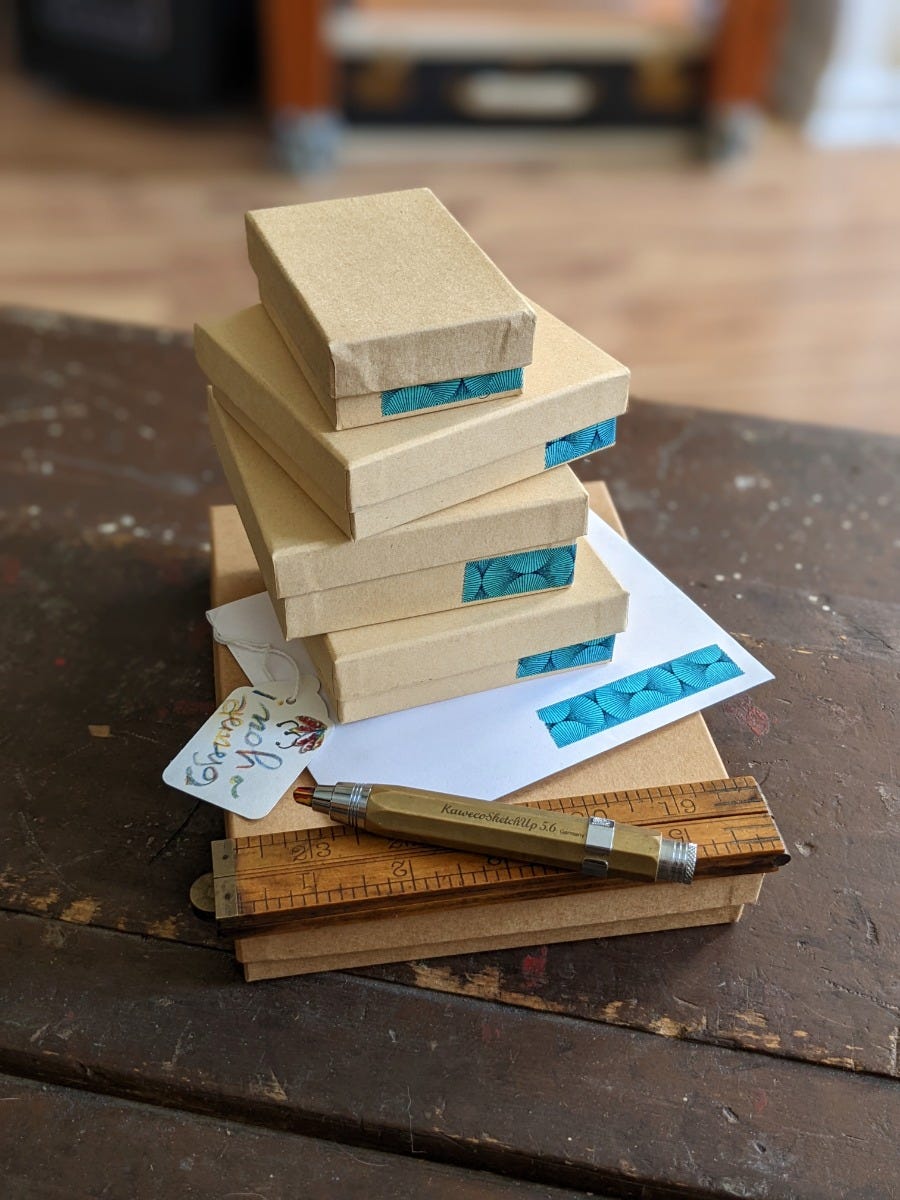 Julie has cute tissue papers that she buys at the local pharmacy that have a nature theme of some sort. Even when shipping close to holidays, she chooses not to use holiday themed paper since she doesn't know the end goal of the purchaser or they might not acknowledge the same holidays.
Julie has stickers made up with her logo pattern to tie together her branding. She includes care instructions as a QR code link. The goal is to have folks comfortable enough to wear the scarves and not tuck it away for "special occasions only."
Julie says she likes to keep her packaging things grouped together to make the process of filling orders consistent and easy.
Visit Artwork by Julie Mader's PA Wilds Marketplace storefront.