September 5, 2021
112 view(s)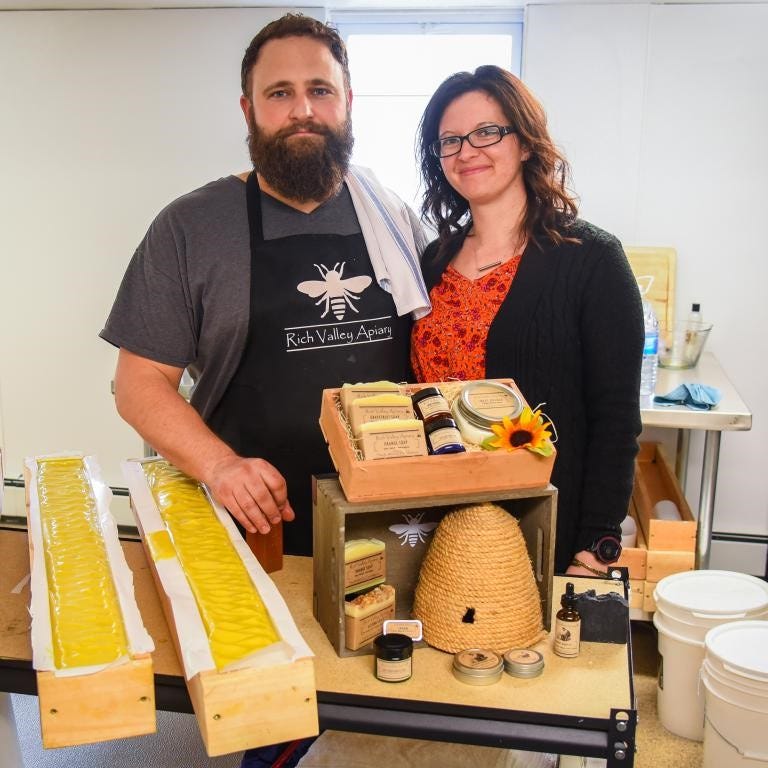 Rich Valley Apiary can best be described as a family affair.
Ryan Magaro and his wife Brandi are beekeepers in Cameron County, PA – and together they not only raise bees; they harvest the bees' sweet honey into various byproducts.
The family's bees are raised organically in the heart of the Pennsylvania Wilds, without treatment of chemicals or exposure to pesticides.
In addition to raising bees on their own property, the family works with a neighboring farmer to raise another set of bees nearby.
---
---
From the hives, the Magaros harvest local raw wildflower honey to produce the beeswax candles, homemade soaps, lotions, and lip balms that Rich Valley Apiary is known for.
And their production process has recently changed.
After years of making their products out of their home kitchen – where, when dinnertime came, space got tight – the family has invested in a new studio.
A former church nearby now serves as the hub of Rich Valley Apiary activities.
The basement is the workshop – where the Magaros can be found mixing their ingredients, curing products and preparing them for sale. And big plans are in store for the main floor of the former church down the road as well.
---
---
The larger work area allows for new methods of making.
Ryan explained that, now, the family will be able to up production and create even more of their honey-based products.
Learn more about Rich Valley Apiary and try out their products at Rich Valley Apiary on Marketplace!
About the Author
A Central Pennsylvania native, artist, outdoor enthusiast and lover of all things history, LaKeshia Knarr has chosen to spend her life in the Pennsylvania Wilds. Since childhood, when she spent hours upon hours swimming in the Susquehanna River, biking on country and small town roads, taking trips to state parks and natural areas, and hiking in the woods, she has valued the beauty and serenity of nature. An award-winning writer, she aims to tell the stories and history of the people and places of the Pennsylvania Wilds and build connections among them.