December 6, 2022
23 view(s)
Online shopping makes buying the perfect Christmas gift easy! You can order heartfelt gifts made in the PA Wilds, and they can be delivered right to your home (or someone else's) before the holidays.
However, it takes time for the elves to package these special presents and deliver them. Make sure that you're ordering your holiday gifts early enough so that they arrive before Christmas.
PA Wilds Conservation Shop
For priority mail shipping, orders should be placed by December 19th to receive them by December 25th.
At this time US Priority Mail is the fastest method of shipping. The PA Wilds Conservation Shop does not offer overnight or expedited shipping.
For a limited time, receive $9.95 flat rate shipping on all orders over $19.95 purchased from the PA Wilds Conservation Shop!
Please note that the PA Wilds Center will be closed December 24th - January 2nd for Christmas and New Years. All online orders received after 2 p.m. on December 22nd will not be processed for shipment until January 3rd.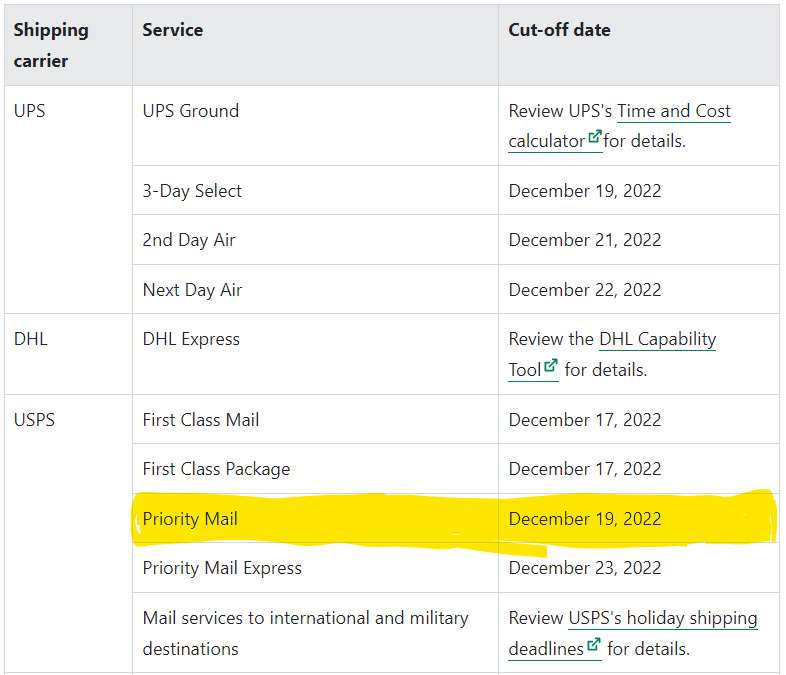 Mickayla Poland at PA Made ships most items via USPS. The last recommended date for placing orders with PA Made is December 17th in order to have the best chance of receiving the goods by Christmas.
Ordering deadline for Rich Valley Apiary is Tuesday, December 13th, for customers to have the best chance of products arriving before December 25th.
TSW Games: Edge of Extinction
Although TSW is still taking orders, none are guaranteed to arrive before Christmas at this point.
General Shipping Suggestions
When ordering for the holidays, refer to each specific maker's shipping policy and deadlines for ordering. However, if no policy is listed, you can use the green "Contact Seller" button on each seller's page to ask questions. The general "first class mail" shipping deadline for USPS is December 17th.
Want to give the perfect gift that is made in the PA Wilds? Click Here to see more products.