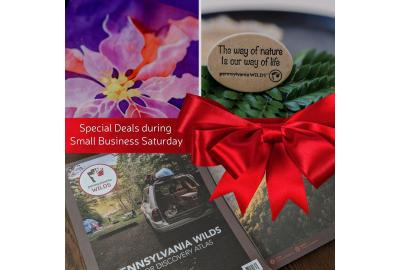 Shop Small Saturday and holiday sales at the PA Wilds Marketplace
To celebrate Shop Small Saturday and the joy of the holiday season, some of the shops on the PA Wilds Marketplace are offering special promotions!
As you're doing your holiday shopping, these promotions can make it an even better deal to support these makers and show your love of the PA Wilds.
Free Outdoor Discovery Atlas with orders of $35 or more
The 40+ page PA Wilds Outdoor Discovery Atlas (ODA) is the go-to guide for people looking to explore the wonders of the PA Wilds.
Now as a special offer, the PA Wilds Marketplace is giving away the Outdoor Discovery Atlas for free with any orders of $35 or more!
To get your free Outdoor Discovery Atlas, simply place an order for $35 worth of products or more on the PA Wilds Marketplace at ShopThePAWilds.com. This can include products from any of the Marketplace sellers, not just the PA Wilds Conservation Shop. Then, the product will automatically be added to your cart … no coupon codes necessary! Your ODA will ship directly to the same address as the rest of your order.
Artwork by Julie Mader offering free magnet from Conklin Studio Pottery with the purchase of any scarf this Shop Small Saturday
Julie Mader from Artwork by Julie Mader is teaming up with Lisa Conklin Conn of Conklin Studio Pottery for Shop Small Saturday!
When you order any scarf from Julie's shop on this Shop Small Saturday (November 26, 2022), she will include a free magnet from Conklin Studio Pottery (the "road less traveled" or "way of nature" magnets) in your package.
There is no coupon code required. Simply place an order for any of the scaves in the Artwork by Julie Mader storefront. She will automatically include one of the magnets when she ships your scarf. You do not have to add a magnet into your shopping cart... unless you want another one of Lisa's awesome magnets or handmade ceramic creations!
Julie says she's happy to provide an extra gift, spreading joy for the holidays while also supporting one of her fellow makers and friends!

Looking for other products?