October 3, 2021
162 view(s)
It can be difficult to fit artistic details into earrings only about an inch long, but the Jabebo artists are able to make this magic happen every day. With hundreds of designs, one could examine these earrings for hours and find a new detail that was previously missed. However that is not the only amazing thing about Jabebo earrings. All of the earrings are made from cereal boxes donated from the local community.
The business began back in the 1990s when the owners, Kevin and Mary Abbott, began to play around with the idea of mismatch earrings. They noticed that their school teacher friends, and their students, were drawn to the colorful images and narrative themes. Now, Kevin, Mary, and the Jabebo team make up to 1000 pairs of earrings each week from their studio in Bellefonte, PA. Their process evolved as they invented and discovered equipment that would help them produce more efficiently. One of their first innovations was the use of cereal box paperboard.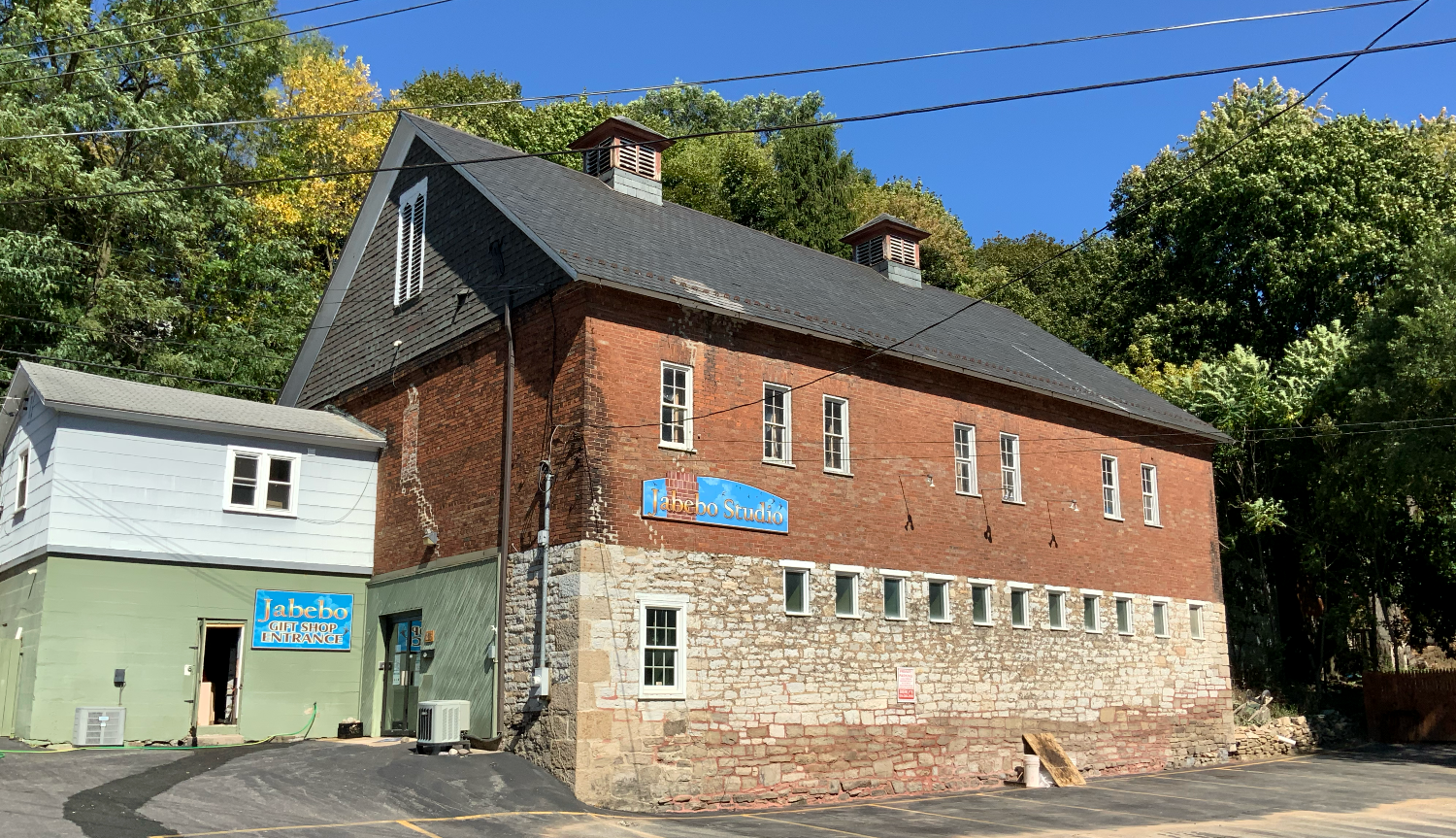 Jabebo Studio at 231 East Bichop Street, Bellefonte, PA
The cereal box paperboard is the base material for Jabebo earrings. The team transforms cereal boxes by laminating the front and back panels together and fixing their images to the front surface which are then punched out with custom-made die cuts. They source these cereal boxes locally; people often visit the store just to drop them off.
Jabebo earrings are made with cereal box paperboard which is a wood fiber that may have gone through paper recycling several times before. Used paperboard is usually not selected for continued recycling because most of its wood fibers are worn and saturated with ink from previous use. Many communities do not bother with recycling paperboard and still send it to the landfill. Years ago, not long after Jabebo started reproducing their images on paper, post-consumer paperboard was chosen to add volume to the individual pieces because it made use of an undervalued resource and it is the ideal thickness for the earrings.
As Kevin and Mary developed a process, it became geared around cereal boxes because they are a convenient size to work with. They also use the same material for the display cards the earrings hang on, which triples the amount of paperboard needed for each pair.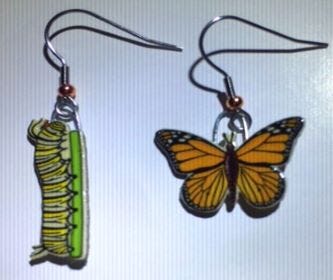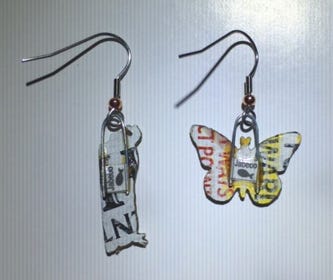 A view of monarch earrings from the front and back. You can see the ceareal boxes on the back of the earring.
Because Jabebo earrings are paper products, to increase their durability Jabebo gives them a final clear coat. Shellac was chosen because it is a non-toxic natural product and helps to filter UV light.
Recently in 2018 Jabebo began adding a second top coat of epoxy which adds significant durability, water-resistance and a more pleasing finish to the product. However, in the transition, there are a number of earrings out there that do not have this top coat and if you wish to send them to the Jabebo team can add it they would be happy to do so.
You may be asking: What happens if the earrings get wet? The epoxy finish does a much better job protecting the earrings from water damage than shellac alone. The new epoxy also does a better job protecting the earrings from warm temperatures and humidity which is another reason for adding it. Shellac alone begins to soften in temperatures in the upper 90 degrees. Earrings left in a hot car and pressed against another surface, or even if you stuffed a pair into your pocket it might find that they lost their smooth shine and adopted an impression of whatever they were pressed against. If you find something like this has happened to your pair please contact Jabebo and they will help with repairing or replacing them.

Here is a little glimptse into the process at the Jabebo Studio.