August 6, 2022
78 view(s)
I was recently asked to create a "key to the PA Wilds" for a very special friend and colleague, Meredith Hill. My reply was immediately YES! Now to find the perfect venerable brass key!
I met this tireless and compassionate advocate, for all things PA Wilds, back in 2006 when recruited by another kindred spirit, already involved, to be a part of the group organizing The PA Wilds Artisan Trail, now known as The Wilds Cooperative PA.
Meredith, who has been involved with the Pennsylvania Wilds initiative since the beginning, around 20 years ago, was chosen as the recipient of the 2022 PA Wilds Outstanding Leader Award!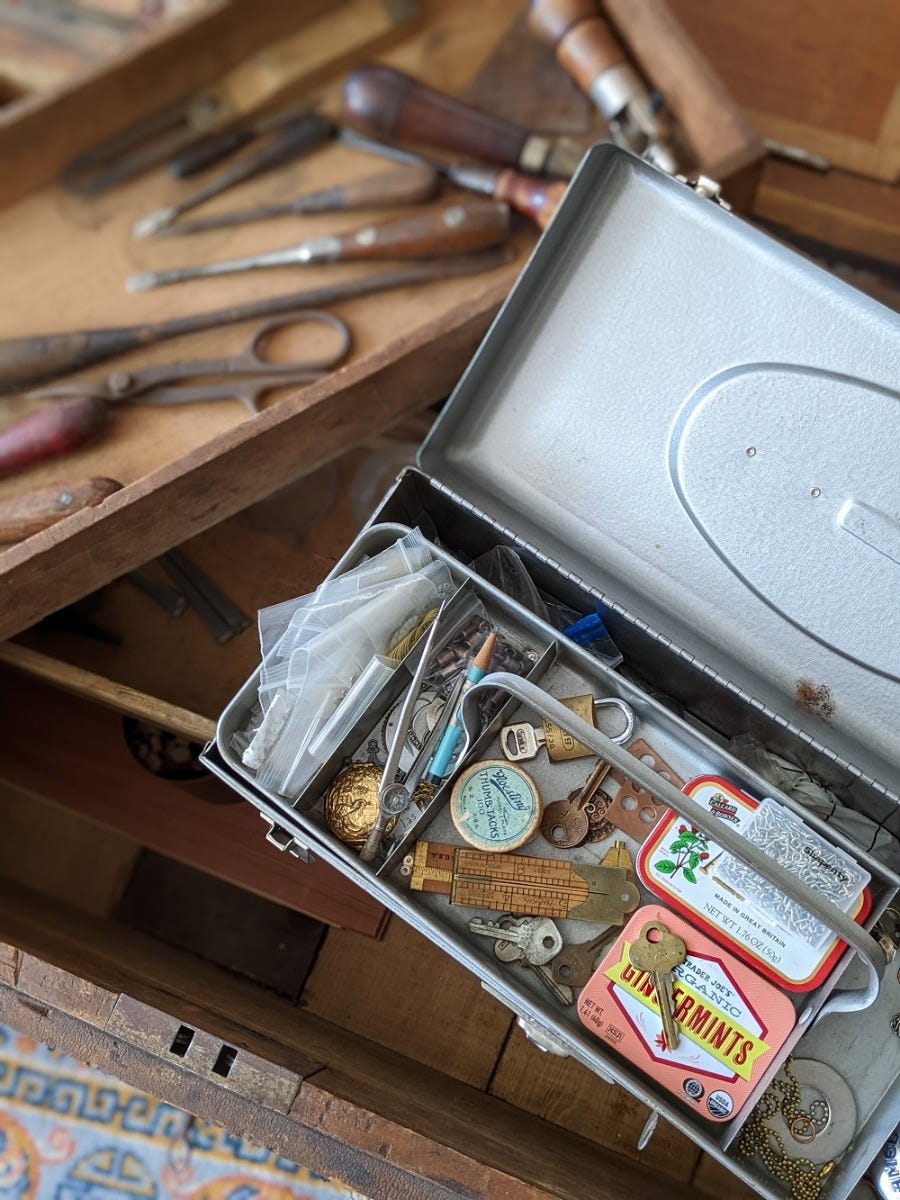 After looking through all corners of the studio for the key I remembered where one of the smaller toolboxes could be that it possibly was in. This almost perfect metal vintage toolbox was where a collection of antique/vintage keys, watch parts, vintage jewelry components and rivets are stored. Believe it or not, the toolbox was tucked away in the much BIGGER wooden toolbox we are using as our coffee table. Success! All this key needed was a little clean-up. The brass key had such great energy and tactile way about it. It was the perfect choice.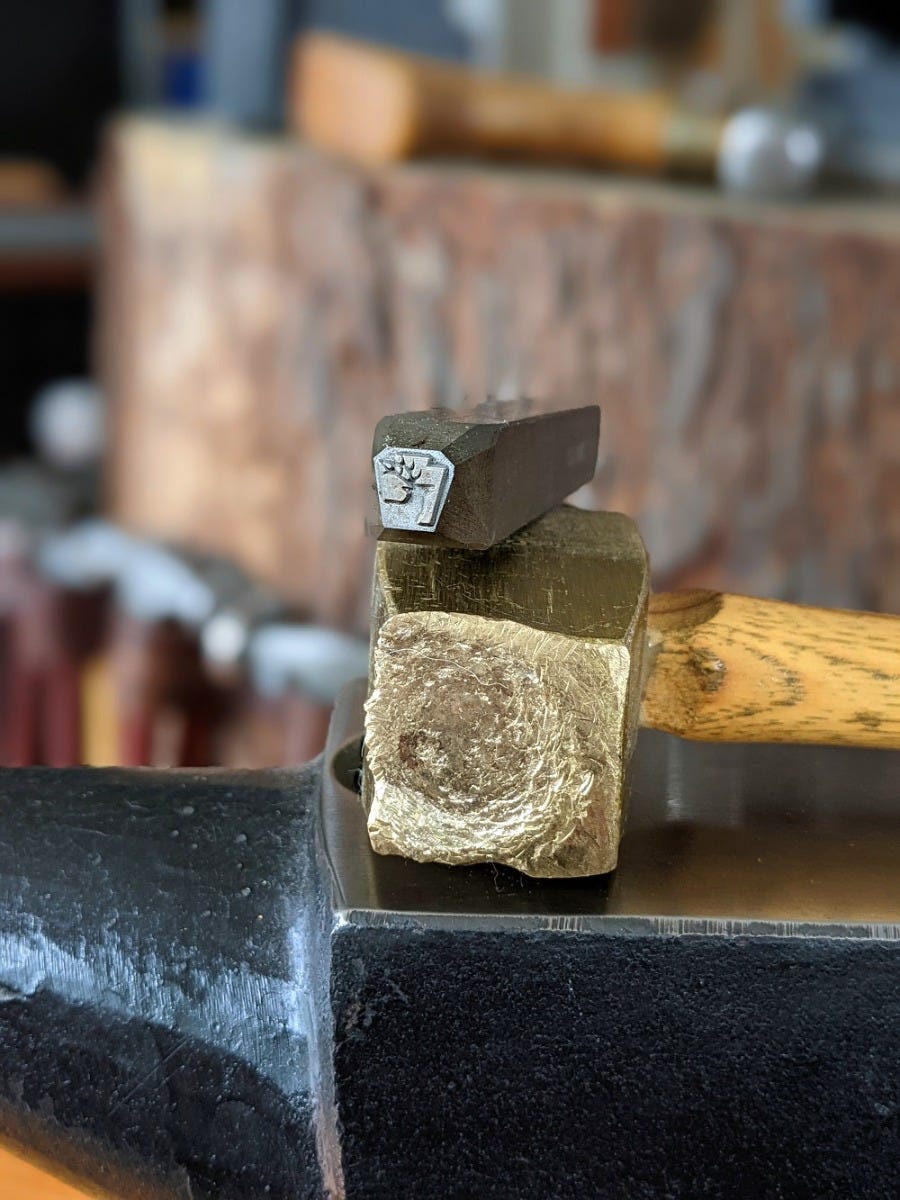 A PA Wilds brand metal stamp, brass hammer and anvil, with the Black Cherry stump bench in the background, are some of the tools used for this piece.
To finish, a copper jump ring was added creating a pendant, a one-of-a-kind SDAJ original copper charm featuring a honeycomb impression along with a sweet bee attached, and then finished with leather cording. The honeycomb imagery is used extensively to signify unity and team work throughout the PA Wild Center for Entrepreneurship.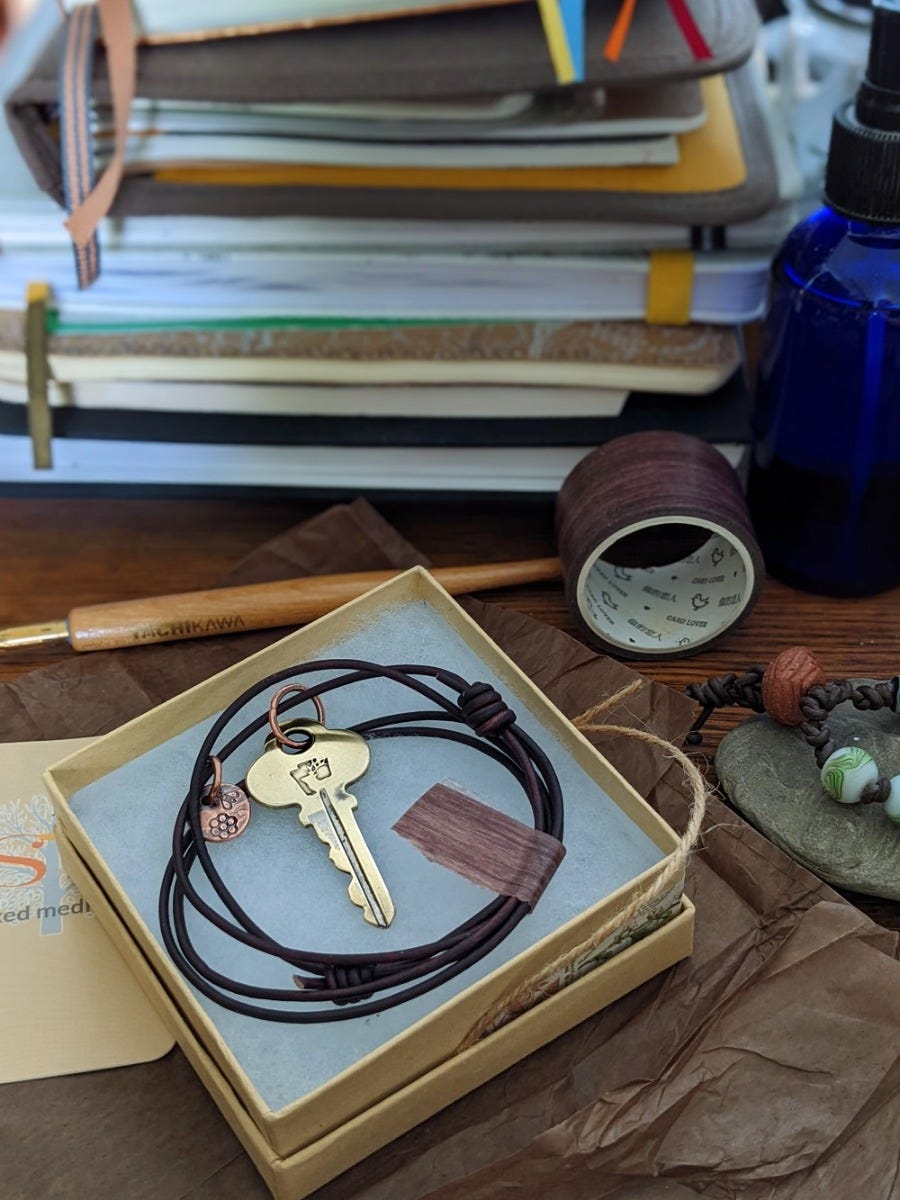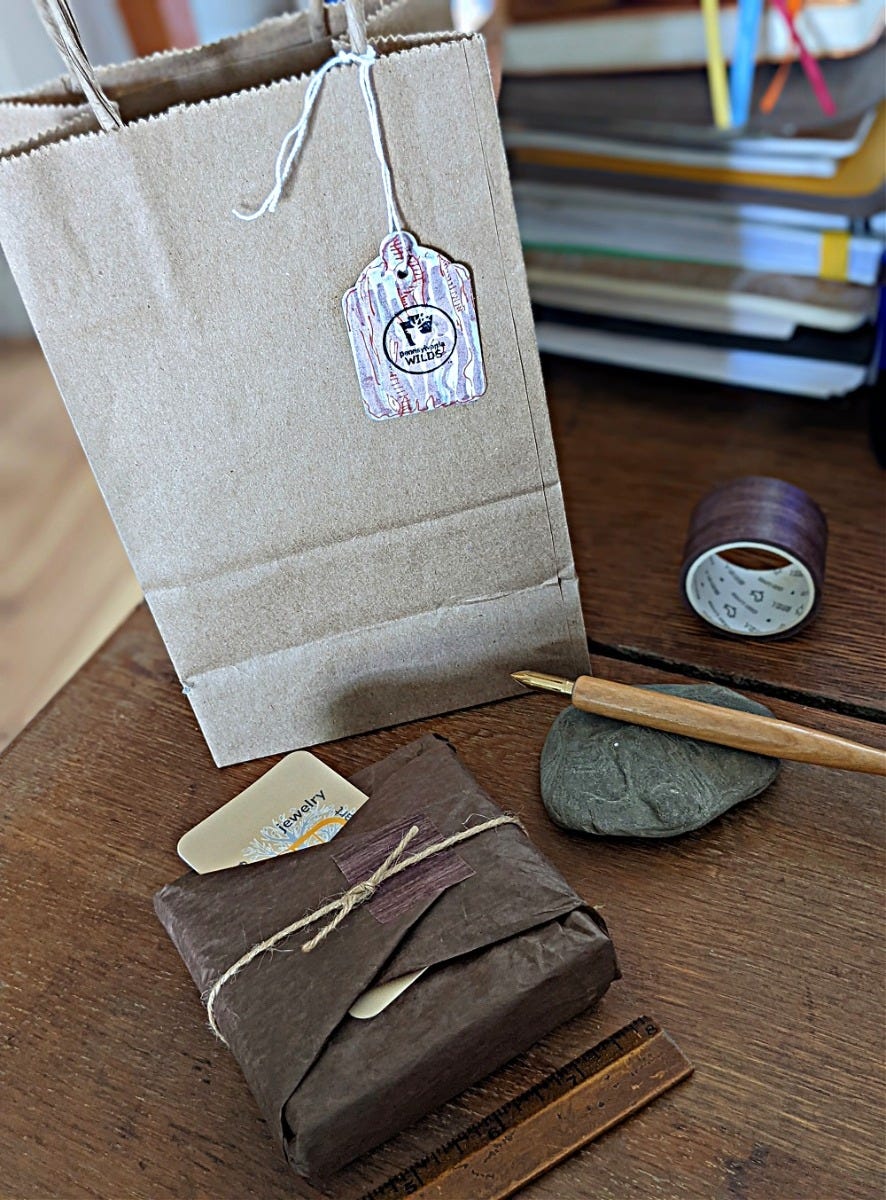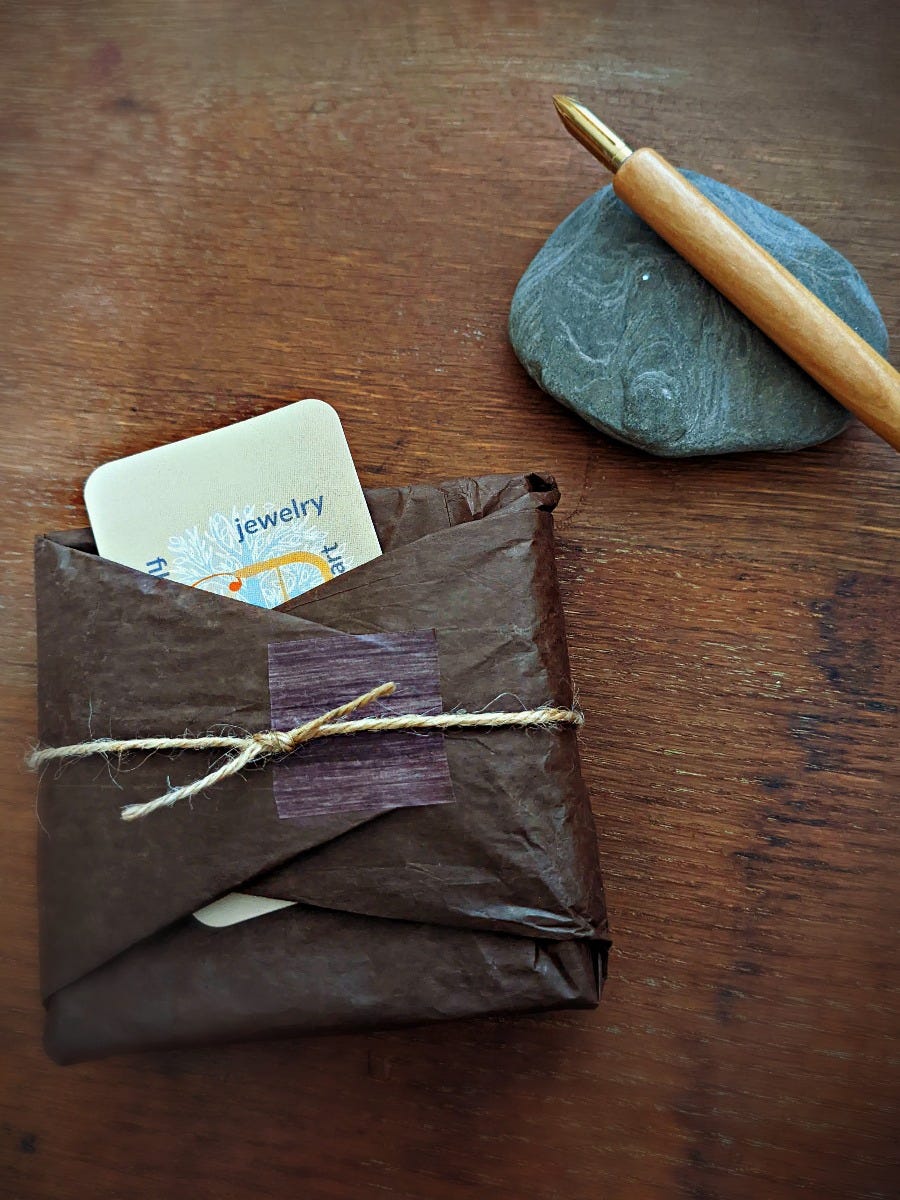 All wrapped up and ready to go!
Photo taken during the dinner held in Jersey Shore, at PA Bald Birds Brewing Co. This Brewery and Event center was such an amazing venue! We hope to make it back very soon for their current IPA seasonal selection as well as their seltzers (cucumber jalapeno, yummmm!).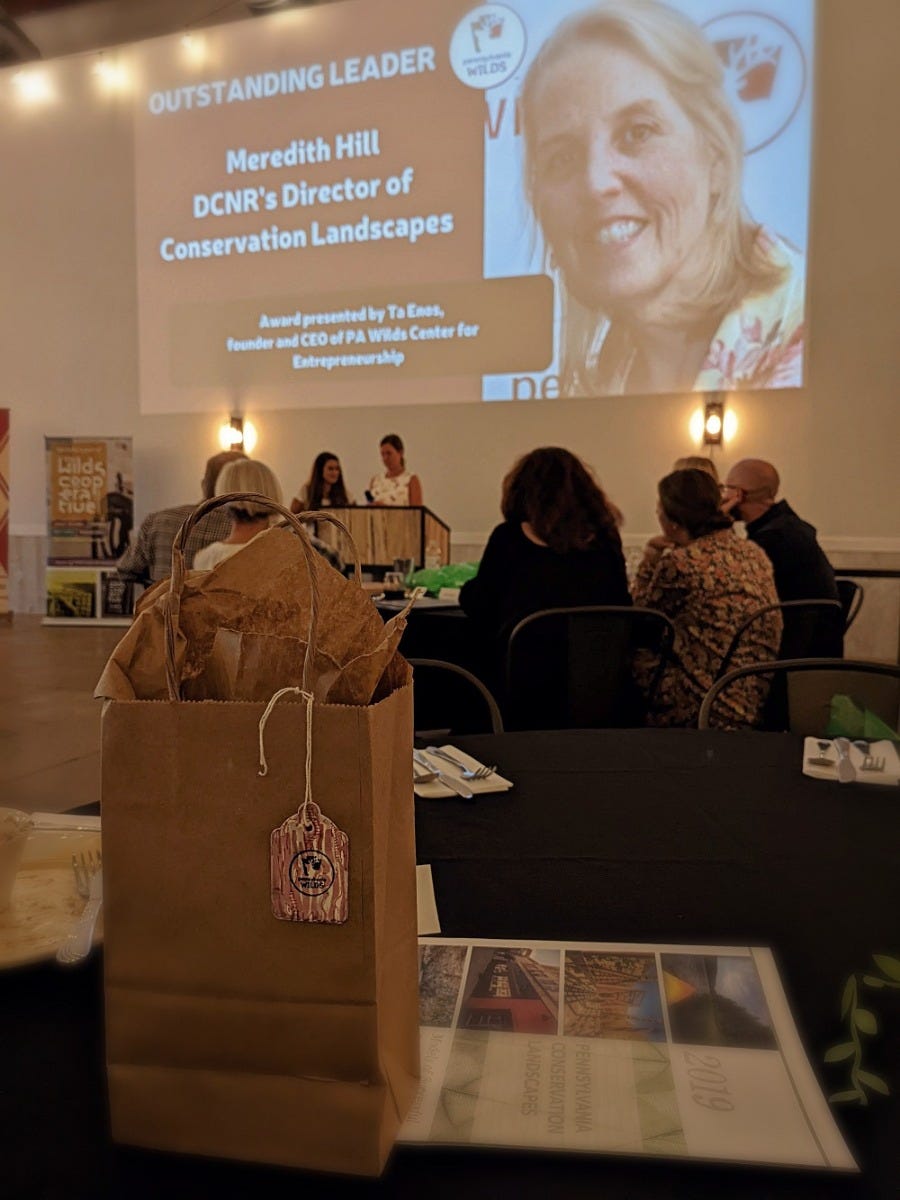 A collage of photos taken as I presented Meredith her key to the PA Wilds.
Left to right: Ta Enos, Meredith Hill and Stephanie Distler
Photo credit: Rob Hinkal Photography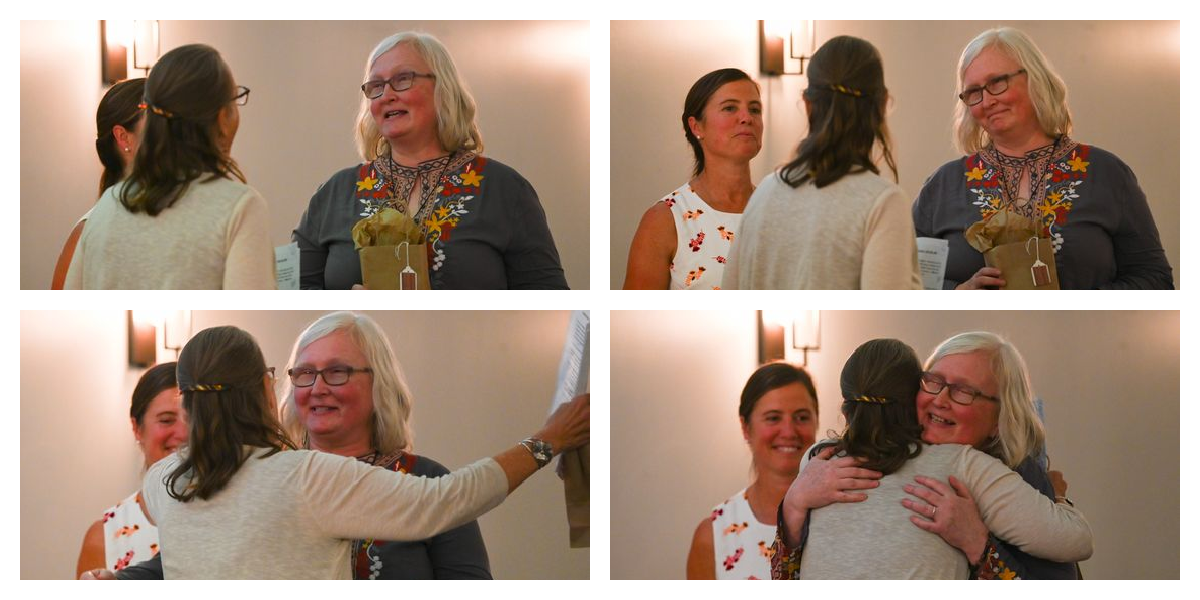 It was definitely a magical evening filled with the people instrumental in continuing the work needed to further develop this glorious region we call home! Meredith was one of 10 Champions of the PA Wilds awarded at this year's dinner and awards banquet held July 28!
About the PA Wilds Champion Awards:
The Champion of the Pennsylvania Wilds Awards celebrate individuals, groups, organizations, communities and businesses that in the last year have made significant contributions to help grow and sustainably develop the outdoor recreation economy and nature tourism in the Pennsylvania Wilds in a way that creates jobs, diversifies local economies, inspires stewardship and improves quality of life.
About the Author, Stephanie Distler
Stephanie Distler is a self taught jewelry artist. Using nature for inspiration, she designs and creates artisan jewelry together with hand tools using precious metals in wire or sheet form.
This piece was originally posted on Stephanie Distler's blog.
Shop Stephanie Distler Artisan Jewelry on the PA Wilds Marketplace!